Running is an intense aerobic exercise.. At a moderate pace of five miles-per-hour, a 145-pound person can burn an estimated 526 calories an hour. However, the intensity level of running can also place stress on your body, resulting in varying pains throughout your body. One common area where pain can occur is your sides around your ribs, commonly referred to as a side-stitch.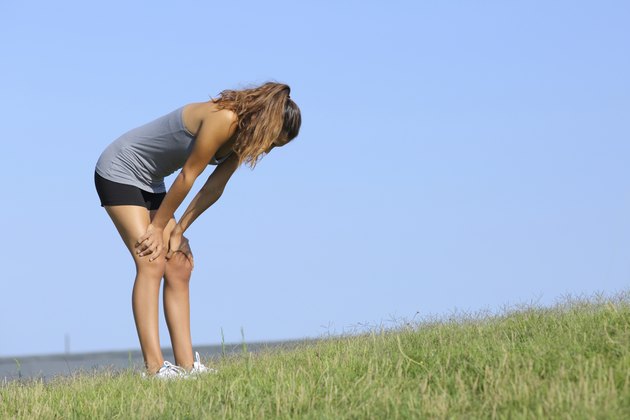 Lack of Oxygen
One cause of your side rib pain could be the lack of oxygen that can occur with strenuous exercises like running. When you run, you substantially increase the energy required by your muscles to keep up your pace. An increased need in energy comes with an increased need for oxygen, which causes both your lungs and heart to work harder. When the lungs cannot keep up with the needs of the body, some muscles may not get the oxygen they need. This can result in cramping of the stomach muscles, which can manifest itself as a side pain near the ribs.
Pain from Ligament Stretching
Side rib pain can also be associated with ligaments between your diaphragm and your stomach. Running uses an up-and-down motion that affects your body each time your feet hit the ground. This impact can push your internal organs downward, placing pressure on the ligaments attached to your stomach. At the same time as these ligaments are being pulled down, your lungs are inhaling and expanding, placing more pressure on the ligaments. The resulting stress can create side rib pain.
Dehydration Effects
Running can quickly dehydrate your body through sweating, especially if you are running outside on a hot day. As you become dehydrated, the amount of water available to make up blood volume is limited. Less blood volume reduces your cardiovascular system's ability to transport oxygen and other nutrients needed by the cells of your body, especially the tissues of the digestive tract. Without adequate oxygen, cramping can occur, which can manifest itself as a side pain.
Prevention and Treatment
Reduce your risk of dehydration by drinking plenty of water before and after your run. Sip small amounts of water during your run and when needed. Reduce your intensity level by slowing down to a jog or walk to help reduce pain. Take deep breaths and exhale through pursed lips to prevent or relieve pain. You can also reduce pain by stopping and bending forward at a 90-degree angle while tightening your stomach muscles.