Vigorous exercise is one way sodium levels in the body are depleted. In fact, as you sweat during exercise, you lose sodium -- though the amount of mineral loss may vary substantially from person to person. Be sure to replace sodium during and after exercise to avoid dangerous consequences of excessive salt loss.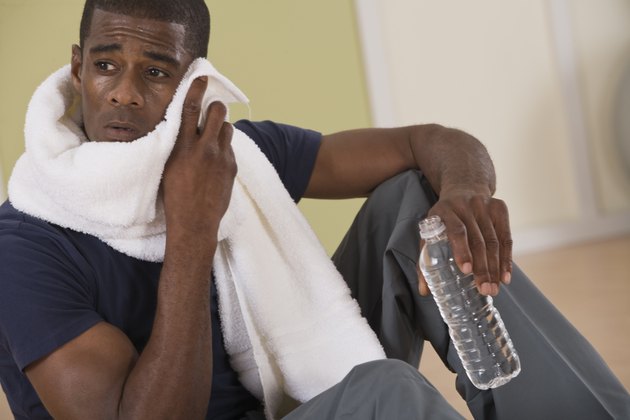 Importance of Sodium
Sodium is a crucial mineral in the body -- not only during exercise but at rest as well. In fact, sodium plays an important role in the function of both muscles and nerves and helps to maintain appropriate fluid level in the body. Most individuals meet the sodium needs of their body through a healthy, balanced diet. While sodium can be eliminated in a number of ways, losses during exercise are one of the most important and may require prompt replacement.
Sodium Losses
According to Power Bar, sodium losses during exercise are highly variable and depend on a number of factors -- including air temperatures, exercise length and intensity, and hydration status. In fact, there is no specific answer about the amount of sodium that an individual will lose during an exercise session. The Ultramarathon Cycling Association estimates that in 1 quart of sweat -- or about the equivalent of a 1/2 pound of body weight -- most individuals will lose about 1,000 milligrams of sodium. You may be able to estimate sodium loss by weighing yourself before and after a workout.
Replacing Lost Sodium
Though total sodium losses may vary, replacing this important electrolyte during -- or after -- exercise is crucial. To achieve optimal results when it comes to restoring depleted sodium stores, the American College of Sports Medicine encourages exercise enthusiasts to consume 500 to 700 milligrams of sodium for every 32 ounces of fluids consumed during or after physical activity. In most cases, the amount of fluid needed will vary, depending on sweat losses. The American Council on Exercise reports that individuals should drink at least 32 ounces of fluid for each pound of sweat lost during a workout.
Risks of Excessive Sodium Loss
While sodium losses during exercise may seem relatively minor, the consequences can actually be quite serious. In fact, low sodium levels -- when combined with low fluid levels -- can lead to a dangerous condition known as hyponatremia. People who develop hyponatremia may experience nausea and vomiting, difficulty concentrating, confusion, agitation and headaches. Be sure to seek immediate medical attention if these symptoms become severe.