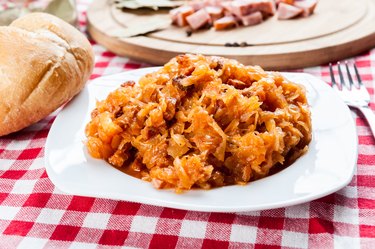 Pork roast and sauerkraut are a classic combination; the sharpness of sauerkraut complements the richness of the pork. Cabbage, a cruciferous vegetable, is high in vitamins A and C and provides a rich source of antioxidants. The pickling process of sauerkraut, whereby the cabbage ferments in its own juices, produces lactic acid bacteria, which aids in the digestive process. Slow-cooking pork and sauerkraut in a Crock-Pot will bring out the complex flavors of the sauerkraut and helps tenderize the pork.
Step 1
Trim off any excess fat from the pork roast with a sharp knife if you are using a shoulder roast, leg roast or rib roast.
Step 2
Place the pork in the bottom of a Crock-Pot. Cover it with fresh sauerkraut, including the sauerkraut juice. Add fruit, vegetables and spices on top of the sauerkraut, if desired.
Step 3
Place the lid on the Crock-Pot and cook on low for 6 to 10 hours. The pork is done when the meat falls apart when picked up. If the roast is bone-in, the bone should slip out easily.
Things You'll Need
Sharp knife

Spices

Fruits and vegetables (optional)
Tip
Bone-in pork roasts, including shoulder roasts and pork leg, are good choices for Crock-Pot pork and sauerkraut, as are chops and loin roasts.
Peeled and sliced apples, potatoes, onions, garlic, paprika or chili powder are good additions to pork and sauerkraut, added during the slow cooking process for additional flavor.
Warning
Do not slow cook pork and sauerkraut in a Crock-Pot at a high level, as the pork may dry out.