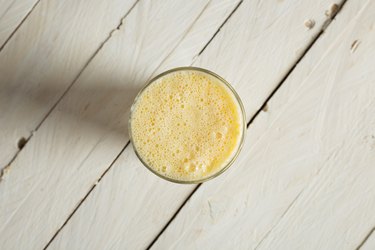 Colostrum is the milk mammals secrete just after giving birth, and it's loaded with antibodies that offer immune protections to the newborn. You can buy bovine colostrum — which comes from cows in the days after calving — as a health food supplement.
Benefits of Colostrum
Colostrum is rich in protein, vitamins and minerals, meant to give newborn mammals a good start in life, says an August 2013 article in Current Research in Nutrition and Food Science. Its immune protections and natural antibiotics, along with nutrients and growth factors, make the substance an appealing supplement. Bovine colostrum is almost identical to human colostrum as far as its beneficial components, the authors said.
Colostrum has been used to treat illnesses in India for thousands of years, the article says. Since the late 18th century, bovine colostrum has been used to enhance the immune system. Before the development of penicillin in the early 20th century, it was used to fight bacterial infections.
Athletic performance: A few studies in humans suggest that bovine colostrum improves exercise performance.
Diarrhea: Specially produced bovine colostrum has been used in clinical trials with positive results.
Infections: Evidence from human studies shows that bovine colostrum increases immune responses.
NSAID-associated gastrointestinal disorder: A few studies showed that bovine colostrum prevents stomach damage caused by nonsteroidal anti-inflammatory drugs (NSAIDs).
Colostrum and Studies
A study published in the April 2017 journal Nutrients tested bovine colostrum on athletes to see if it helped with leaky gut troubles. The study was small, with only 16 participants, but the authors found that it helped. They suggested that not only could athletes benefit from colostrum supplements, but that people hoping to restore a healthy gut balance after using NSAIDs could benefit.
A review of bovine colostrum studies and clinical trials in the June 2016 edition of the journal _Frontiers in Bioscience _concluded that colostrum offers good treatment options for gastrointestinal troubles. The authors noted that more studies are needed and also stated that colostrum supplements could be combined with synthetic drugs to treat many stomach disorders.
More support for bovine colostrum comes from an article in the September 2015 edition of the Journal of Complementary and Integrative Medicine. The authors noted that bovine colostrum is, for the most part, considered safe and is well-tolerated.
Colostrum and Allergies
The authors of the Frontiers in Bioscience article said colostrum is safe, even at high dosages, with few side effects. The authors of the Journal of Complementary and Integrative Medicine article said those who are lactose intolerant may have fewer effects from bovine colostrum than from milk.
Still, the Memorial Sloan Kettering Cancer Center advises people who are lactose-intolerant not to take bovine colostrum. Bovine colostrum also contains trace amounts of estrogen, so if you have a hormone-sensitive cancer, you should discuss bovine colostrum with your doctor before taking the supplement.
More on Colostrum
Bovine colostrum is often sold in powder and capsule form. You should talk to your doctor if you want to start taking colostrum. Sovereign Laboratories, which makes bovine colostrum, suggests you discuss colostrum dosage with your doctor before you start taking it.
Sovereign also suggests that athletes take 10 to 20 grams of powdered colostrum a day and that, for digestive, anti-inflammatory and immunity needs, 1 to 2 teaspoons of powder or two to four capsules twice a day is a good idea. They recommend taking it on an empty stomach with 6 to 8 ounces of water. The company expects that you should notice some improvement in your symptoms in four to six weeks.
You can also cook with it. Seempal, also called seem paal or kharwas, is a steamed colostrum milk pudding made with colostrum milk, sugar and spices. It's a vanishing treat on the streets of India, according to the Economic Times.