If you have diabetes, you can eat dried fruit for fiber, vitamins, minerals and antioxidants -- just not as much as you could if it were in an alternative form, such as fresh, frozen or canned in its own juice without added sugar. This is because dried fruit is higher in sugar than other forms of fruit.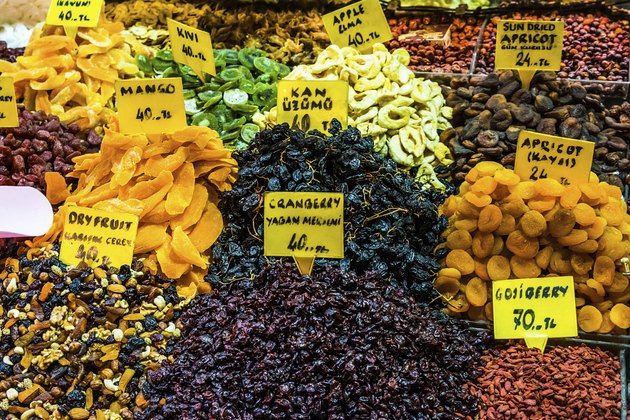 An Acceptable Carbohydrate Serving
The typical serving of dried fruit is 1/4 cup and contains about one carbohydrate serving, or 15 grams of carbohydrate. You can easily fit it into your daily meal plan as a fruit serving if there are no other ingredients added to the dried fruit. According to the American Diabetes Association, most people with diabetes can have 45 to 60 grams of carbohydrates -- or three to four carbohydrate servings -- per meal. You should work with your health care providers to come up with a personalized meal plan.
Sugar in Dried Fruit
Avoid added sugar in dried fruit -- added sugar in dried fruit is superfluous, especially if you have diabetes. The American Diabetes Association recommends you save sweets for special occasions. Dried fruit is naturally higher in sugar per gram than other forms of fruit because it is dehydrated -- its sugar is condensed into a smaller volume. Fruit is not considered a sweet, but added sugar such as table sugar and cane sugar is. So if you choose dried fruits without added sugar, you can eat them daily as part of a healthy meal plan.
Low Glycemic Loads
Dried fruit with a low glycemic load is the best choice because such foods have only a small impact on your blood sugar and are associated with better health. Low-glycemic fruits do not contain added sugar and include prunes and dried apple and apricot. A 1/4-cup serving of figs is a fruit with a medium glycemic load, while a 1/4-cup serving of dates or raisins has a high glycemic load and should be limited in your diet.
Preventing Hypoglycemia
Diabetics should always carry a carbohydrate snack on hand to prevent hypoglycemia or low blood sugar in case you cannot eat on a regular time schedule. This is especially true if you are on insulin or oral diabetes medications. Dried fruit is more portable and shelf stable. The American Diabetes Association suggests consuming 2 tablespoons of raisins to treat hypoglycemia because raisins are a simple carbohydrate and tend to be higher in sugar than other dried fruits. But you can still keep any dried fruit with you as a carbohydrate snack.