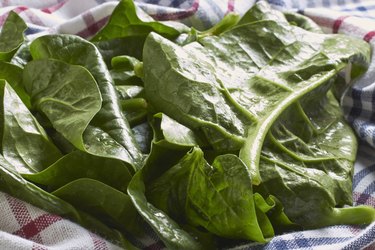 Malabar spinach has stiff, slightly spongy leaves reminiscent of chard. Because of its texture, it's best used cooked rather than in salads. Malabar spinach, also called Mong Toi, originates in India, where it readily grows on vines. This healthy green is easy to grow, as the tough leaves are more tolerant to heat than most spinach varieties. It is rich in iron; its taste lends itself well to sauteing. Adding tofu to the spinach saute adds a fair amount of protein.
Step 1
Wash the Malabar spinach leaves carefully under cold water in a colander. Tear the large pieces into smaller ones and set the leaves on a paper towel to dry.
Step 2
Clean the mushrooms and remove the stems with a paring knife. Slice the caps to a medium thickness and slice the stems.
Step 3
Heat the oil in a skillet over high heat. When the pan is very hot, add the mushrooms, spinach and tofu.
Step 4
Add the minced ginger and garlic and saute for three to four minutes, stirring constantly.
Step 5
Pour the white wine and the soy sauce, over the mixture. Add salt to taste. Saute 1 more minute, continuing to stir, until the vegetables are hot. Serve right away.
Things You'll Need
Colander

Paring knife

Saute pan

Wooden spoon

2 cups Malabar spinach leaves

12 oz. fresh mushrooms

½ cup firm tofu, cut into cubes

2 tsp. sesame oil

1 tsp. fresh peeled, minced ginger root

1 tbsp. garlic, finely minced

2 tsp. soy sauce

2 tsp. white wine
Tip
Serve alone as a side dish or over white or brown rice.