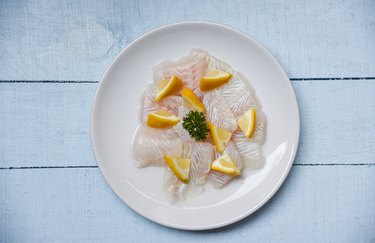 Also known as swai, basa fish is native to Asia and has a mild flavor that makes it versatile. If you're wondering how to cook this fish, here are a couple of basa fillet recipe suggestions that can help. You can also substitute other fish with basa fillets in recipes that you normally make.
Health Benefits of Basa Fish
Basa is a source of protein and fats. According to the United States Department of Agriculture, a 4-ounce serving of basa offers 99.4 calories, 15 grams of protein and 4.5 grams of fat. The American Heart Association (AHA) notes that the omega-3 fatty acids in fish can help reduce your risk of stroke and heart disease. An October 2018 study published in the Journal of Internal Medicine also links consumption of fish to lower mortality rates thanks to the omega-3 content.
An April 2015 study published in the British Journal of Nutrition notes that while some varieties of fish sometimes contain contaminants that may be harmful to pregnant and breastfeeding women, as well as young children, the health benefits that fish has to offer outweigh the potential risks for most adults.
Mastering these basa fillet recipes can help you comply with the AHA's recommendation of eating two servings of fatty fish a week.
Chia Seed Crusted Fish Recipe
LIVESTRONG.com lists a quick and easy recipe that uses chia seeds to add flavor, texture and nutrition to the fish. The recipe requires you to oven cook the basa fillets.
Follow these steps to make this basa fish recipe:
Preheat the oven: Preheat the oven to 400 degrees Fahrenheit.
Make the chia seed mixture: Combine a half-teaspoon of chia seeds with 3/4 cup of cornmeal, 1/4 cup of finely chopped parsley and some salt and pepper, to taste.
Dip the fish in the chia seed mixture: Spread a half-tablespoon of low-fat mayo on top of each fish fillet and then place each fillet in the chia seed mixture, mayo-side down, so that the mixture sticks to the fish.
Oven cook the basa fillets: Place the basa fillets on a greased cookie sheet. Bake the fillets for around 15 to 20 minutes. The U.S. Department of Health & Human Services states that the internal temperature of the fish should cross 145 degrees Fahrenheit for it to be considered safe for consumption. The flesh should be opaque and easy to separate with a fork.
Fish Fillet With Fresh Tomatoes
The AHA lists a heart-healthy recipe for fish fillets cooked with tomatoes. Unlike the chia seed recipe, which requires you to oven cook the basa fillets, this basa fish recipe uses a skillet, so you can make it even if you don't have an oven.
Follow these steps to make this basa fish recipe:
Make the tomato mixture: Heat 2 tablespoons of olive oil in a large skillet over medium heat. Saute three cloves of minced garlic, 1/3 cup of chopped onion and a chopped rib of celery for around two minutes. Stir in 10 to 12 ounces of chopped Italian plum tomatoes, a small carrot that has been sliced, a bay leaf and a dash of salt, pepper and cinnamon. Let the mixture cook for around five minutes.
Add the fish: Make depressions in the tomato mixture and place the basa fillets in the depressions. Spoon the tomato mixture over the fish to cover it and let it cook for around four minutes, until the fish is almost done. Take the pan off the heat. Let it stand for five minutes so the fish finishes cooking.
Garnish the dish: Drizzle the fish with lemon juice and chopped parsley. Discard the bay leaf.