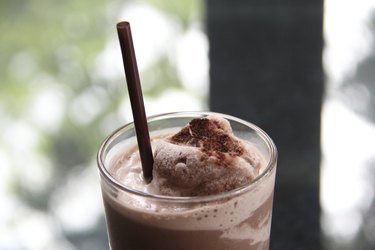 Optifast and Slim-Fast are meal-replacement weight loss plans, substituting their products for at least two meals a day. Both programs offer shakes and bars, and Optifast adds soups to the menu. One major difference between the two is how they are administered. Slim-Fast customers can buy the products at grocery stores and drugstores. The company's website has resources and help, but no formal testing or follow-up is required. Optifast is available only at clinics, often doctor's offices or hospitals, whose staff stay involved throughout the process.
Getting Started
Optifast participants start with a medical exam to gauge their health and determine whether they are suited for the program. If approved, participants receive their meal replacements along with a customized plan that takes into account their condition and any prescribed medications. Monitoring continues, with modifications to the plan when necessary. Slim-Fast customers can simply go to the store, buy the company's products and use them any way they wish. If they register on the website, however, they get customizable meal plans and an online tool that tracks their weight, water intake and exercise. The company's registered dietitians are available via an online contact form and also answer questions in the participant forums on the website.
Diet Plan
Optifast dieters use only Optifast meal replacements during what the company calls the active weight loss phase, which can last up to six weeks. In general, participants have five Optifast drinks each day, which together provide about 800 calories. The plan includes counseling to help patients sort through food behaviors and learn better ways to eat. After the active weight loss phase, participants begin to add solid food back into their diets under the guidance of Optifast nutritionists. Slim-Fast dieters replace two meals with either a Slim-Fast shake or a meal-replacement bar. They have three snacks per day, consisting of a Slim-Fast snack bar or a prescribed amount of fruits, vegetables or nuts. Once a day, Slim-Fast dieters have a 500-calorie meal that includes a lean protein, vegetables and a starch. The company provides suggestions and recipes. After customers reach their weight goals, they can begin replacing just one meal and one snack with a Slim-Fast product.
Benefits
According to the Optifast website, its participants lose, on average, 52 lb. in 22 weeks, with corresponding decreases in cholesterol, blood sugar and blood pressure. Half of its clients keep at least some of the weight off for five years, according to follow-up surveys. Slim-Fast recommends a weight loss of no more than 1 to 2 lb. a week. It cites 45 clinical studies on the benefits of its plan, including a reduction of health risks such as heart disease and improved patient lifestyle and eating habits. One study, reported in the journal "Obesity Research" in 2003, found that consumers who stuck with meal-replacement plans over 10 years were able to maintain some weight loss while the control group gained weight.
Cost
Because the Optifast program includes in-clinic consultations, regular exams and other medical procedures, it can cost thousands of dollars, depending on the clinic participants choose and how long they remain in the program. The Slim-Fast program is much less expensive, as participants pay only for bars and shakes. The website and its resources are free for registrants.