If the idea of cooking chicken in hot water fills you with the kind of terror that comes from memories of aging relatives serving boiled meats for supper, think again. Poached chicken should be submerged in a flavorsome stock and cooked gently, giving it a juicy, soft texture that is nothing like the overcooked meat served with soggy vegetables of your memories. Poaching chicken allows it to retain its flavor, and depending on what you put in the stock, can be as healthy or as sinful as you like.
Step 1
Tie the thyme and bay leaves together with kitchen string.
Step 2
Heat a large pot over medium heat and coat the bottom with olive oil. Place the chicken thighs in the pot and heat for about 5 minutes on each side, or until golden. Add the onion, celery and carrots, then add the herbs and season to your taste.
Step 3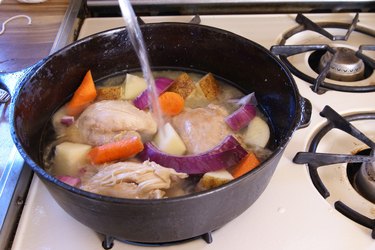 Pour enough hot water in the pot to cover the chicken and herbs, then place the lid on the pot and bring it to a boil. Reduce to a simmer, remove the lid and continue to cook for 10 minutes.
Step 4
Remove the pot from the heat, replace the lid and leave it to stand for about 1/2 hour, until the chicken is cooked through. Check for doneness, by cutting into the chicken and ensuring none of the meat is pink. The United States Department of Agriculture recommends using a thermometer to check that the internal temperature is at least 165 degrees Fahrenheit.
Step 5
Ladle a couple of spoonfuls of the stock over the chicken before serving for extra flavor.
Things You'll Need
2 bay leaves

8 stalks of thyme

Kitchen string

2 tablespoons olive oil

4 chicken thighs, with bones and skin

1 medium white onion, diced

2 stalks celery, diced

1 large carrot, diced

Salt and pepper, for seasoning

Water, for boiling
Tip
Serve with mashed potatoes and sautéed asparagus. Retain the water to use as a stock. It's delicious in soups and risottos. For a more decadent flavor, substitute the olive oil with melted butter. To utilize poached chicken in countless other recipes, Andrew Scrivani of the "New York Times" suggests shredding it and adding to soups and salads for a low-fat, high-protein fix.