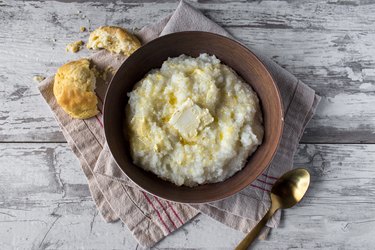 Many people love to start the day with a lightly sweetened cereal like oatmeal, but others crave something with a savory taste. Microwave grits are just as easy to prepare as instant oats, and this popular porridge made from cornmeal makes a great base for toppings like cheese, meat or vegetables.
Why Grits?
You might have heard breakfast hailed as the most important meal of the day. Mayo Clinic notes that people who eat breakfast tend to have reduced hunger, make healthier choices and feel more energized throughout the day. The American Academy of Family Physicians echoes this advice, noting that a healthy breakfast can refuel the body and provide energy.
This is one of the reasons that quickly cooking hot cereal is such a popular option for people — it cuts down on stress during the morning rush. It's just as convenient at other times of the day for those who don't eat breakfast (which is all right — as research cited in a June 2014 review in Frontiers in Public Health explains, breakfast is no more important than any other meal of the day, and prolonging the overnight fast, either through an earlier dinner or later breakfast, can have its own health benefits).
According to the USDA, grits taste great when prepared with garlic and cheese, or when they are served with fish, poultry or meat. A half-cup of cooked grits counts as a 1-ounce serving of the grains group and has about 70 calories, 16 grams of carbohydrates (with a half-gram of fiber) and 2 grams of protein.
To make grits the traditional way, you would usually have to combine 2 cups of water per 1 cup of dry grits in a saucepan and allow to simmer on the stove top for 20 minutes. If you're up for that method, you could try making a shrimp and cheddar grits bowl with stewed okra, which combines grits with ingredients like red onions, garlic, plum tomatoes, okra, cheddar cheese, olive oil, lemon juice and shrimp.
But if you want to make microwave grits, those are much easier and just as versatile.
How to Microwave Grits
The market has many types of microwave grits that are processed especially for quick preparation. One popular version is the Quaker grits from the same company that makes the popular instant oatmeal.
Quaker grits don't necessarily need to be microwaved: You can add a half-cup of boiling water with a packet of instant grits and stir. But if you want to microwave grits, empty the packet into a 2-cup microwavable bowl and add a half-cup of water or milk. Stir and cook on high for about one minute to one minute and 15 seconds.
Although Quaker grits have undergone a little more processing, they have a similar nutritional profile. One packet has a little more than the typical serving size recommended by the USDA, but the 28 grams of Quaker grits in one packet have 100 calories, 22 grams of carbohydrates (1 gram of fiber) and 2 grams of protein.
Quaker lists its grits ingredients as specially processed degerminated white corn grits, salt and added vitamins and minerals like iron, niacin, thiamine, riboflavin and folic acid.
If you go with another brand of microwave grits, refer to the directions on the package to ensure they are the same as Quaker's. Once you have mastered making grits in the microwave, you can start to combine grits with ingredients like cheese, olive oil, cooked spinach, sautéed mushrooms, bacon and other savory breakfast foods for a well-rounded morning meal. You might even try grits with butter, a little sugar and some of your favorite jam mixed in if you like something sweet.