The starch in corn contributes to its ranking as a medium carbohydrate food on the Glycemic Index, which rates foods according to their carbohydrate content. This comes in handy while dieting, because high GI foods may raise your blood sugar and increase hunger. However, the medium rating for corn causes some dieters to limit its consumption. By limiting corn, you miss out on its health benefits, such as keeping your colon clean. When included in a healthy diet, corn adds fiber to support your digestive health.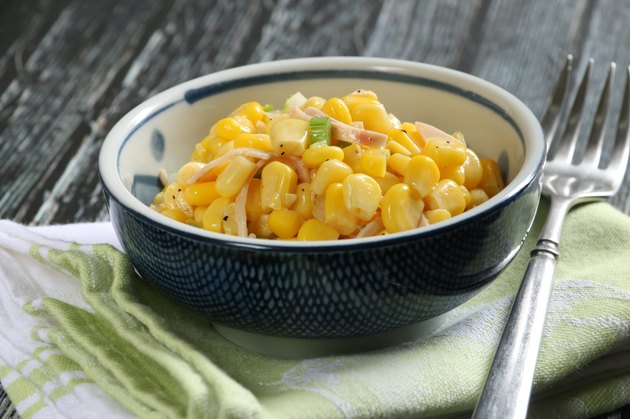 Health Benefits of Corn
A medium ear of corn, 6 3/4 inches to 7 1/2 inches long, has about 2.5 grams of fiber and 99 calories. The American Heart Association recommends eating 25 grams of fiber per day. Of the two forms of fiber -- soluble and insoluble -- insoluble fiber traps water in your stool to keep it soft and keep it moving for regular bowel movements. Eating foods that contain fiber, such as corn, cauliflower, green beans and potatoes promotes regular bowel movements that help clean out your colon and prevent health issues like hemorrhoids and diverticulosis, according to University of Arizona. Soluble fiber dissolves in water; it helps lower blood-sugar levels and cholesterol. Food containing soluble fiber includes nuts, beans, apples, blueberries and oatmeal.
Fiber Scrubs the Colon
Your body cannot digest insoluble fiber, the type found in corn. As it passes through the digestive system on its way to elimination, insoluble fiber acts like a scrub brush to sweep your colon clean, according to North Dakota State University. Fiber also has other health benefits, such as prolonging your feeling of fullness, which may reduce your caloric intake.
Corn vs. Other Fibrous Foods
Processing removes the outer layer of grains, the part that contains fiber. Whole grains retain their fiber content. For example, a one-half cup serving of white rice carries about 2 grams of fiber, while the same serving of whole-grain brown rice provides about 5.5 grams of fiber. High-fiber foods include beans such as garbanzos, which offer 12 grams of fiber per one-cup serving, and black or pinto beans, which have about 19 grams of fiber per serving.
Results
Any type of high-fiber diet, including one that incorporates corn, should help you cleanse your bowels through regular movements. A clean colon carries many health benefits, including the reduction in colon cancer, constipation, diarrhea and the buildup of toxins within the body.