When it comes to food and behavior, there are no clear cut answers. Meat consumption may have either positive or negative affects on behavior, or none. If you're concerned about how your food choices affect your mood and behavior, consult your doctor to discuss your diet and health.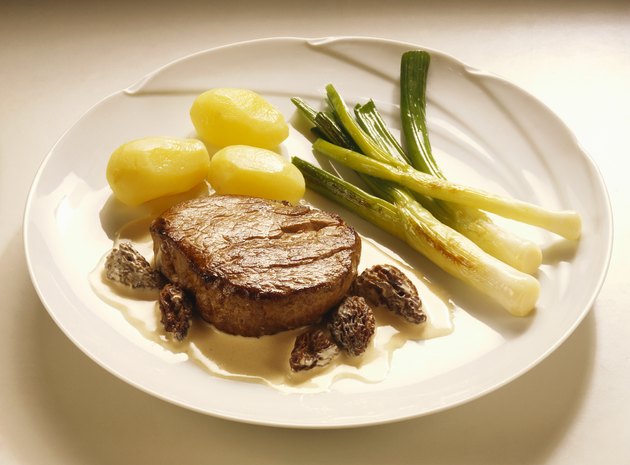 Meat and Depression
The evidence regarding whether meat eating increases risk of depression is mixed. A 2012 study published in Psychotherapy and Psychosomatics found an association between low meat intake and a depressed mood. However, another study, published in 2012 in Nutrition Journal, found an association between low meat intake and an improved mood. A 2011 article published in the Dartmouth Undergraduate Journal of Science reports that food's impact on mood is individual, and may depend on all the nutrients you've eaten, as well as time of day, age and gender.
Source of Tryptophan
Meat is a source of tryptophan, an amino acid and precursor to the feel-good chemical serotonin. Low levels of tryptophan are associated with an increase in aggression, according to a 2009 review article published in the International Journal of Tryptophan Research. While eating meat helps up your intake of the amino acid, you may not feel the positive affects it has on your mood if you're not eating carbs with your meat.
Thiamine and Iron
A deficiency in certain nutrients, namely thiamine and iron, may also affect behavior and mood. Low intakes of both thiamine and iron are associated with depression, fatigue, lack of concentration or disinterest in socializing with others, says Dartmouth. Meat is a source of both nutrients, and including it in your diet may increase intake, which may help you meet your daily needs, benefiting behavior.
Balancing Intake
How food affects mood is individual. But for overall health, it's important to eat a balanced diet that's rich in healthy sources of protein, carbs and fat. When it comes to choosing meat, select lean sources to limit your intake of saturated fat. Healthy lean meats include strip steak, pork chops, lamb and veal. Look for cuts of meat with less marbling, and trim off any fat to further reduce fat intake.