If you are trying to lose weight, your diet is critical to your success. In general, avoid foods that are high in saturated fat and simple sugars. Although they have sugar, tomatoes are not bad for weight loss. If you eat tomatoes or are thinking about adding them to your weight loss diet, you should know how to incorporate them into your meal plans and how weight loss works.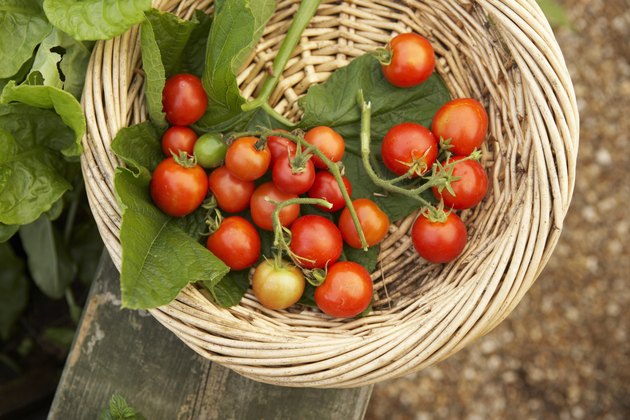 Low in Calories
Adding tomatoes to your diet can help you achieve your weight loss goals. The Centers for Disease Control and Prevention recommends tomatoes for weight loss and weight management. Dr. Ann Kulze, a South Carolina wellness and nutrition specialist, considers the tomato to be a "superstar" weight loss vegetable. Tomatoes are very low in calories; a medium-size tomato is just 22 calories and a large tomato is 33 calories. Even an entire cup of cherry tomatoes is just 27 calories.
High Volume
Dr. Jonny Bowden, Ph.D. and clinical nutrition specialist, considers foods such as tomatoes to be "high-volume" foods, ideal for weight loss. Foods that are considered to be high in volume have relatively high amounts of water, air and fiber and a relatively low amount of calories. High-volume foods such as tomatoes satisfy your appetite and keep you full without requiring you to eat large quantities of calories. While tomatoes have modest amounts of dietary fiber -- a large tomato has 2.2 grams of fiber -- they contain large amounts of water. Water consumed from foods stays in your stomach significantly longer than water from beverages and can help you lose weight, according to Penn State University.
Glycemic Concerns
Although tomatoes are nearly completely void of dietary fat, you may be concerned about the sugar raising your blood glucose levels. Don't be. The tomato is a low-glycemic food. The glycemic index is a ranking system that ranks how much a food or beverage is likely to affect your blood sugar levels. Foods that rank 55 and below are not likely to have a significant effect on your blood sugar levels. Tomatoes score a 15, very low on the glycemic index, according to information from the University of Sydney in Australia. It is important for dieters to keep their blood sugar as stable as possible. Elevating your blood sugar causes your body to release insulin, which promotes fat storage.
Weight Loss
Simply eating tomatoes will not cause you to lose weight or burn fat. No foods cause weight loss. To lose weight you need to burn more calories than you consume. Exercise causes you to burn more calories, but ultimately you will likely have to decrease the amount of total calories that you eat. This can be healthfully done by replacing or substituting low-calorie foods, such as tomatoes, for high-calorie foods. For example, as the Centers for Disease Control and Prevention explains, you can replace a 2-ounce portion of cheese or meat on a sandwich with tomatoes. The CDC also recommends replacing a starchy high-calorie rice dish with a cup of cooked tomatoes.