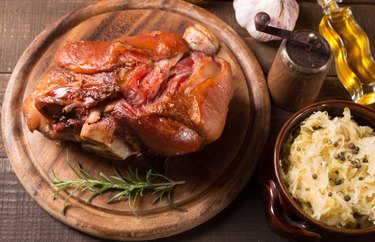 Ham hocks, also known as pork hocks, are used in a variety of recipes. Often, they are used to add flavor to beans and soups.
What Is a Ham Hock?
According to the Georgia Pork Producer's Association, the ham hock is the lower portion of the hog's hind leg. It is likened to the human ankle. Though they are available fresh, more often, you can find cured or smoked ham hocks. The shank end refers to the lower portion of the foreleg, which is also called a hock.
The Oklahoma Department of Agriculture, Food & Forestry says that a 250-pound hog on the hoof provides a 180-pound dressed hog on the rail. Of that, you'll end up with an average of 144 pounds of retail cuts that are cut and wrapped to bring home. The average hog provides 28 pounds of fresh hams, including ham steaks and ham hocks.
Cooking Ham Hocks
The College of Menominee Nation, a tribal community college in the United States, offers a basic recipe for boiled pork hocks with vegetables.
Add six smoked pork hocks to a large stockpot with 4 quarts of water. Bring to a boil. Reduce heat to a simmer and continue to cook until the meat starts to fall off the bone. This could take up to three hours, depending on the size of the pork hocks. If the meat is not yet falling off the bone, continue simmering until it does.
Remove the hocks from the pot. Shred the meat from the bones. Return the meat to the pot. Add in your choice of vegetables, such as cubed rutabaga, cubed potatoes, baby carrots, chopped onion, diced zucchini and diced summer squash.
Boil the vegetables until tender. Season to taste with salt and pepper and serve immediately. Allow leftovers to cool and freeze them in batches for long-term storage.
How to Make Golonka
Is golonka good for you? The USDA indicates that a single ham hock, after cooking and removing the bone, contains 119 calories, 13 grams of protein, 7 grams of fat and zero grams of carbohydrates.
One cup of boiled split peas, made without salt, contains 231 calories, 16 grams of protein, 1 gram of fat, 41 grams of carbohydrates and 16 grams of fiber.
Putting the three ingredients together represents a decent-sized meal that's high in protein and fiber, with a reasonable amount of fat.