Any good Southerner knows what a ham hock is and what it is used for. However, if you aren't familiar with them, ham hocks are the lower legs of the cow that have the rind, bone, fat and lean meat. There isn't much to eat on a ham hock, so they are usually boiled to flavor everything from soups, like bean soup or split pea soup, to side dishes like ham hocks and black-eyed peas. You can get ham hocks from your butcher, or buy them either fresh or smoked at your grocery store.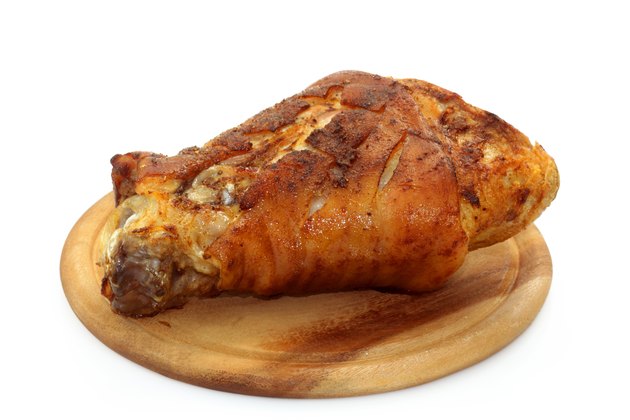 Step 1
Place the ham hocks in the stockpot and cover them with 8 cups of water. To draw out the most flavor from the ham hocks, the water should be cool. As the water warms up it will slowly cook the ham hocks, releasing the flavor.
Step 2
Heat the stockpot over high heat. When the water begins to boil, cover the pot and reduce the heat to medium-low. Cook the ham hocks for 2 hours. When they are finished, the ham hocks should be tender to the point of the meat falling off the bones.
Step 3
Remove the ham hocks from the liquid and remove the meat from the bones and discard the bones. Trim the fat and gristle from the meat. You can use the meat in a soup or mix it with black-eyed peas.
Step 4
Skim the fat from the stock and bring the stock to a boil. Boil until the liquid is reduced to your desired concentration and use it for your soup or to cook your black-eyed peas.
Things You'll Need
2 ham hocks

8 cups cool water

2 tsp. of garlic powder or red pepper flakes, optional

Stockpot
Tips
Add seasoning to the ham hocks for a broth with a more complex flavor. For example, 2 tsp. of garlic powder or red pepper flakes will add flavor or heat to the broth.