Olive oil may be high in calories, but that doesn't mean eating it will lead to weight gain. What's more, olive oil is rich in cholesterol-lowering monounsaturated fats, making it a healthy addition to your diet. The key is to eat this and other calorie-rich foods in moderation as part of a balanced meal plan.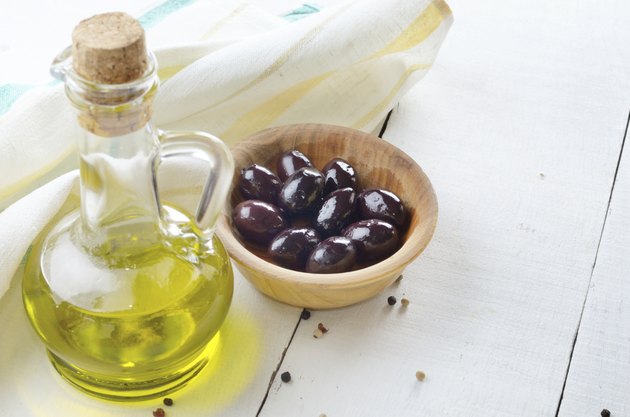 Weight Gain Explained
No matter what foods you eat, you only gain weight in one way: by consuming more calories than your body needs for energy. When this happens, you store the excess calories as body fat for later use. You could potentially eat nothing but olive oil all day long and never gain a pound, as long as you maintained a caloric balance -- although you'd certainly suffer nutritionally with the lack of other food groups.
A Calorie-Dense Food
Olive oil's diet-busting reputation stems from the fact that it's pure fat. While the other macronutrients -- protein and carbohydrates -- contain just 4 calories per gram, fat contains 9 calories per gram, making it far more calorically dense. Calorie-dense foods may lead to weight gain because they provide energy, but don't always make you feel full. Consider that 1 tablespoon of olive oil and a large banana each contain about 120 calories. You'll feel much fuller after eating the banana than after swallowing the spoonful of oil, and you may eat fewer calories over the following hours.
The Research
While eating too much fat may spell danger for your waistline, including olive oil in a reduced-calorie diet may increase your chances of success, according to a study published in "Journal of Women's Health" in 2010. Researchers placed overweight breast-cancer survivors on either a low-fat diet or one enriched with olive oil for 8 weeks, and found that the olive-oil group lost more weight. After the initial trial, the women were able to choose which diet they preferred to continue with, and they overwhelmingly chose the olive-oil plan. This may indicate greater satisfaction with a diet that includes olive oil -- and you're most likely to stick with a diet that satisfies.
Olive Oil in Moderation
To enjoy olive oil without compromising your weight, use just 1 teaspoon for sautes or stir-fries, or lightly drizzle the oil onto salads or pasta dishes. Ideally, no more than 20 to 35 percent of your total calories should come from olive oil and other fats. That works out to 44 to 78 grams of fat in a 2,000-calorie diet; for perspective, each teaspoon of olive oil provides 4.5 grams of fat, while each tablespoon provides 13.5 grams of fat.