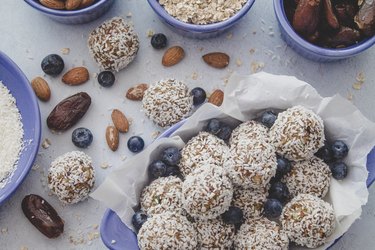 There's nothing worse than finishing a meal only to realize you have absolutely no energy to give. After all, food is supposed to keep us energized, but if we don't regularly eat a healthy and balanced diet, it can do the complete opposite. That's where these high-energy breakfasts come into play.
We tapped a registered dietitian for the best energizing breakfasts that will help you start your day with a pep in your step. Keep scrolling to see five high-energy breakfast recipes you can make in minutes.
1. Green Superfood Smoothie Jar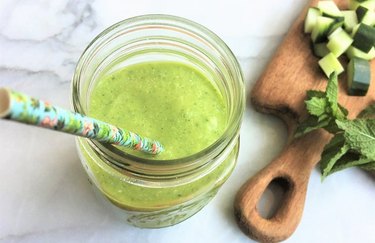 Skip the coffee, this green smoothie gives you that pick-me-up to get your day started. In addition to fruits and veggies, this smoothie packs green tea, which contains caffeine — a stimulant that helps us feel more alert, May Zhu, RD, LDN of Nutrition Happens says. This smoothie is also great for keeping us hydrated, which can also improve overall energy levels. And thanks to 9 grams of protein and 6 grams of fiber, this will definitely hold you over until your next meal.
2. Mushroom and Cheese Protein Omelet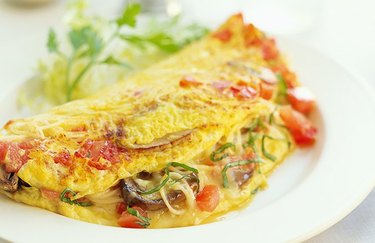 "Having a combination of proteins, fats and fiber can help stabilize our blood sugar and provide us with steady energy," Zhu says. The 32 grams of protein in this omelet will keep you feeling satisfied until lunch. Zhu suggests enjoying a slice of whole-wheat toast or a cup of fresh berries on the side of this Mushroom and Cheese Protein Omelet to balance the dish with more hunger-curbing fiber.
3. Breakfast Biscuits With Banana and Nut Butter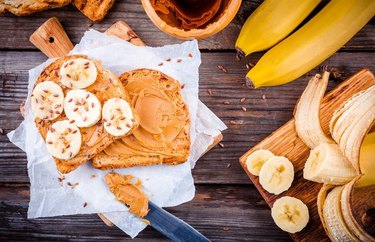 Carbohydrates are our body's primary and preferred source of energy, and including fiber and adding protein (like this recipe does) helps keep our energy levels up. Zhu reminds us not to overdo it with the nut butter because it's calorie- and fat-dense. "Keep in mind that, generally, one serving of nut butter is around two tablespoons," she says. Remember, a little goes a long way.
4. Cranberry Almond Energy Bites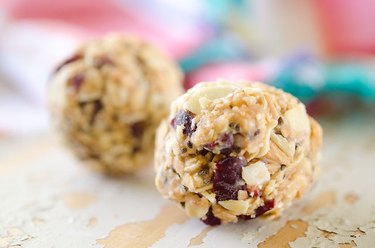 We love the versatility of energy bites: They're great for breakfast or snack and help prevent an afternoon slump. Zhu says the chia seeds in this recipe provide stable energy because of their ratio of protein, fat and fiber. "Chia seeds are also a hydrating food because they absorb up to ten times their weight in liquid." These Cranberry Almond Energy Bites are a smart breakfast if you're doing an early morning workout or find yourself too busy for a fully cooked meal.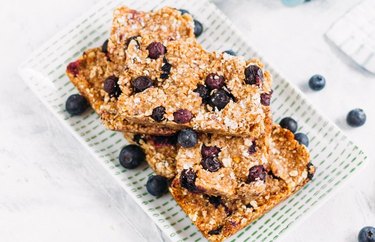 "Oatmeal provides a source of complex carbohydrates that provides every and soluble fiber that supports a healthy digestion," Zhu says. Meanwhile, blueberries and dates are rich in vitamins A, C and potassium, so you know these little bars pack in the nutrition. Try pairing these Blueberry Oat Bars with a boiled egg or two for a protein boost.