The three nutrients that make up our diets are protein, carbohydrate, and fat. Typically, a healthy diet for the average person is composed of about 50 percent carbohydrate, 20 percent protein, and 30 percent fat. Vitamins, along with dietary minerals, are measured according to the Institute of Medicine's Food and Nutrition Board (part of the USDA) Dietary Reference Intakes, or DRI's. These recommendations are minimums based on preventing deficiency symptoms in the majority of the population.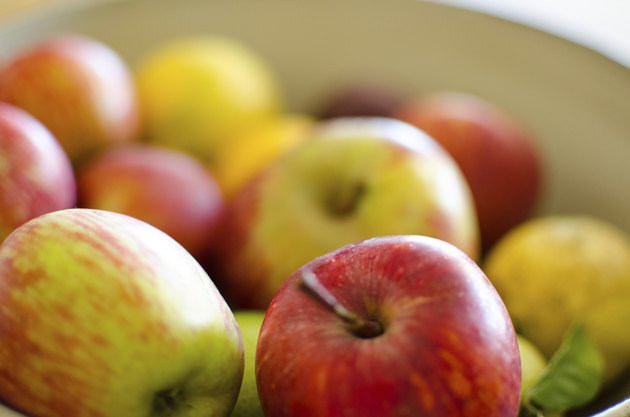 Estimating Nutrient Needs
A simple way to estimate your nutrient needs for weight maintenance is to find your weight in kilograms (pounds divided by 2.2), and multiply by 25. This formula can apply to men and women looking for maintenance and adjusts accordingly for special needs for weight gain/loss or specific medical or metabolic requirements. For example, a 140-lb. female weighs 63.6 kg, and requires an estimated 1600 calories daily to maintain her current weight. To break this down into calories, 50 percent of 1600 is 800 calories carbohydrates, 20 percent is 320 calories, and 30 percent is about 480 calories.
Vitamins
Vitamin recommendations fluctuate throughout life based on age and gender. There are four fat-soluble vitamins (Vitamins A, E, D, and K); and nine water-soluble vitamins (comprising 8 B vitamins and Vitamin C). Other micronutrients include minerals, antioxidants, and other phytochemicals. Of all the vitamins, the B vitamins folic acid and Vitamin B12 are the most commonly deficient micronutrients, particularly for women, vegetarians, and vegans.
A diet rich and varied in fruits, vegetables, legumes, and nuts and seeds will generally provide adequate intake of the vitamins. A multivitamin may provide a daily boost to ensure you are not deficient
Information Application
There are four calories in each gram of protein and carbohydrate, and nine calories per gram of fat (fat is more calorie dense than protein and carbohydrates). To estimate the total number of grams of each nutrient, simply divide the number of calories by the number of calories per gram. Using the above example, 800 calories of carbohydrates divided by 4 calories per gram equals 200 grams carbohydrates for the day. Similarly, 320 calories of protein (divided by 4) is 80 grams protein, and 480 calories of fat (divided by 9 calories per gram) is 53 grams fat daily.
Meeting Needs Check
Ideally, to encourage a healthy energy level, metabolism, and blood sugar, you should attempt to eat a meal or snack every three to four hours. If you break down you estimated needs into three meals and a snack, try to get all three nutrients in each time. Balancing out meals and snacks with protein, carbohydrate and fat is more satiating and provides more balanced usable energy than a snack of carbohydrates alone.
If your daily calorie needs are 1600 calories, aim for about 500 calories for each meal, and a small snack throughout the day. Eat a variety of different colors to ensure adequate intake of all vitamins, minerals, and antioxidants. When reading food labels, the percentages you see are based on a 2000 calorie diet, and the vitamin DRI's are for average-sized adults.