Frying pans or skillets are typically used to saute, pan-fry or sear foods. Certain situations may lead you to use a frying pan for other uses, such as baking. Electric and stove-top pans typically have flat bottoms and deep, flared or straight sides, a convenient shape and size for some baked dishes. While baking -- basically cooking with dry heat -- usually occurs in an oven, it can also be carried out on the stove or grill and in electric skillets.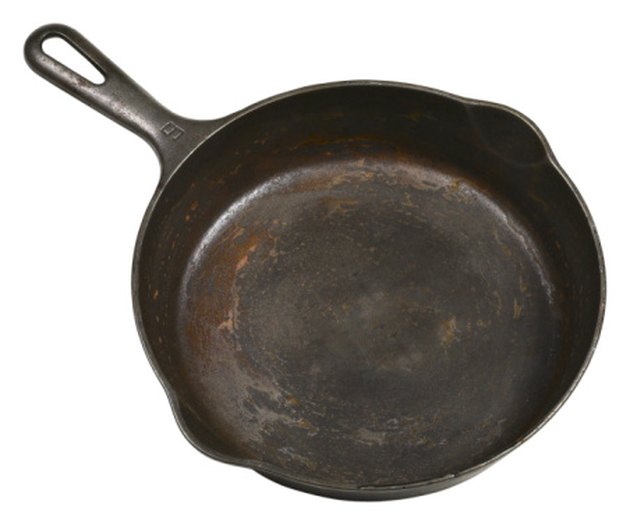 Construction
Cast-iron frying pans with single-piece, single-metal construction make the best baking pans, followed by steel pans with single-piece construction. The entire baking pan must be able to withstand temperatures up to 550 degrees Fahrenheit, the upper temperature of most ovens. Frying pans with separate handles, even if they are metal, may not work well if the solder, bolt or other fastener holding the pieces together consists of a different metal than the rest of the pan. Solder may melt away at temperatures as low as 281 degrees Fahrenheit, resulting in a handle breaking off as you attempt to remove a pan from the oven. Heat expansion and contraction may loosen bolts and fasteners over time, while pans with plastic or wood-clad handles may melt, crack or burn when subjected to temperatures above 250 degrees Fahrenheit.
Stove-top or Grill-top Baking
Baking requires indirect heat in a contained space. A water bath under the frying pan -- over a bed of coals on a brazier or grill, gas burner or electric heating element -- allows for even heat transfer. A tight-fitting lid creates the contained space within which the heat can circulate. Use a flat-bottomed frying pan with a flat lid for best results.
Use a water-filled Dutch oven with the same diameter as your frying pan to provide moist, indirect heat when making bread or cake. Leave no gaps between the two pans. Bring the water in the Dutch oven to a boil to heat the frying pan before adding any batter or other ingredients. Add at least 1/3 of the coals to the top of the lid when using a brazier or grill, especially when making quick breads, cakes or pastries. The even heat from redistributing the coals ensures that the top of your baked item will cook at the same rate as the bottom, preventing scorched or underdone food.
Electric Skillet Baking
Food bakes unevenly on the bottom in an electric skillet, because the heating element cycles on and off, but the lid holds enough heat inside the pan to help compensate. Batter-based recipes do not work as well in electric skillets unless you pour only enough at a time to cover the area directly over the heating element. Open the steam vents all the way when making dough-based breads and pastries, to ensure a firmer outer crust.
Oven Baking
Cast-iron skillets work best for oven baking, because of their single-metal, single-unit construction. Raise cooking temperatures by 25 degrees Fahrenheit if the recipe calls for a glass casserole dish. Steel pans perform almost as well, as long as they do not have soldered, plastic or wooden handles. Place a water bath on the rack below the frying pan to prevent scorching food on the bottom, especially when making a gravy- or cream-based casserole.