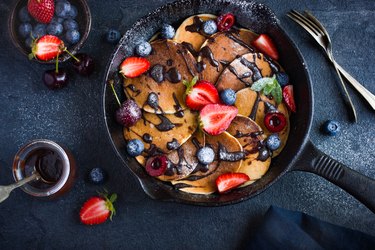 Cooking in a cast iron skillet may be just what you need to perk up your a.m. routine — literally. Cast iron pans can increase the iron content in your food, which can help with low energy, according to Columbia University.
Here's how that works: If you're lacking iron in your diet, your cells may not be getting the oxygen they need. As a result, you'll likely feel sleepy and sluggish (other symptoms include weakness, dizziness and headaches). That's why making sure you're eating enough iron is essential to a healthy, energized body.
What's more, women with excessively heavy periods or who are pregnant are at higher risk for an iron deficiency, per the American Academy of Nutrition and Dietetics. So, if you fall into one of these categories, eating more iron-rich foods along with cast iron skillet cooking can be an easy way to supplement your iron intake.
Try these five cast iron skillet breakfast recipes that'll help you start the day with some pep in your step.
1. Peanut Butter 'French Toast' With Simple Blackberry Syrup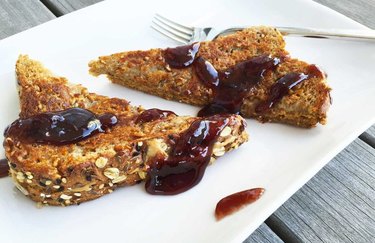 This healthier pan-toasted, plant-based french toast swaps eggs and butter for a drop of coconut milk and oil on iron-rich whole-grain bread. Plus, it's serving some serious PB and J vibes thanks to natural peanut butter and a warm drizzle of sweet blackberry spread.
2. Spicy Tempeh, Red Pepper and Sweet Potato Hash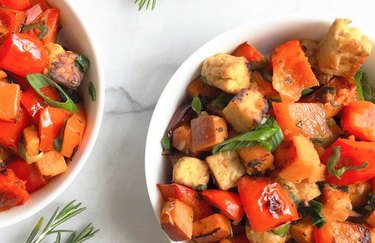 Often overshadowed by the popular tofu, tempeh is the main protein source in this savory plant-based breakfast sautéed in a cast iron skillet. Packed with fiber, vitamins and probiotic benefits, powerhouse tempeh is the perfect addition to your meatless Mondays.
3. Spring Frittata With Artichokes, Peas, Green Onions and Goat Cheese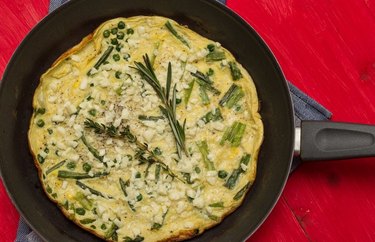 If you're a fan of frittatas, you'll freak for this fluffy dish stuffed with artichokes, peas, green onions and goat cheese. With only 200 calories per serving — and a whopping 14 grams of protein — this simple cast iron skillet recipe boasts a ton of nutrients and keeps your hunger at bay without breaking the calorie bank.
4. Spicy Potato, Red Pepper and Chicken Sausage Skillet for Two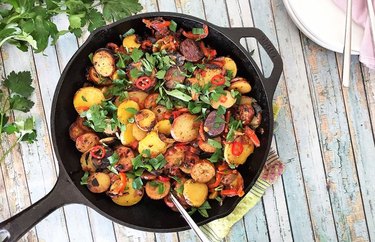 When the hankering for something sweet and savory hits, this cast iron breakfast has you covered thanks to the sweet red bell peppers, spicy hot chili pepper and mouthwatering chicken sausage. Plus, the vitamin C in the bell peppers will help your body absorb the plant-based iron in the potatoes.
5. Vegan Cocoa Pancakes With Raspberry Smash
With an impressive 15 grams of fiber per serving, you can get your flapjack fix all while feeling full for longer. Made with whole-wheat pastry flour, cocoa powder and chia seeds, these healthier plant-based pancakes pack heaps of antioxidants and fiber while a warm raspberry topping satisfies your sweet tooth. For an extra protein boost, stir some plant-based protein powder into these griddle cakes.