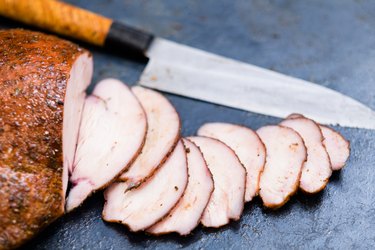 Cooking a turkey breast can be tricky, especially if you're roasting a 9-pound turkey breast. Larger turkey breasts usually need at least three hours of roasting time. However, if you've chosen to stuff your turkey breast, this can influence the total cooking time too.
Roasting a 9-Pound Turkey Breast
Turkey is usually cooked at a minimum temperature of 325 F (163 C). The USDA does not recommend cooking your turkey at a lower temperature than this.
However, be aware that turkey is a lean meat, which means that it can dry out very easily. The Mayo Clinic considers lean meats and poultry (like turkey breast) to be among the healthiest types of animal protein you can consume. These meats can help you obtain your daily protein intake, which the FDA lists as a recommended intake of 50 grams per day.
Although you can roast your turkey at higher temperatures, it's usually best not to, because of its low fat content. Regardless of the temperature you use to cook your turkey breast, you should keep the meat covered. This allows it to retain the most moisture and helps increase heat circulation.
The average weight of a turkey breast is around 4 to 8 pounds. Unstuffed, these turkey breasts take between one and a half and three and a half hours to cook. Stuffed, they're likely to need at least two and a half to three and a half hours in the oven.
A 9-pound turkey breast is larger than average. This obviously means that roasting a 9-pound turkey breast requires a longer cooking time than usual. You're likely looking at a minimum cooking time of three and a half hours. This amount of time can easily increase to four hours if you've decided to stuff your turkey breast.
If you're cooking turkey breast that's frozen, keep in mind that this will prolong your cooking time too. The USDA states that your total cooking time may end up being around 50 percent longer. This means that smaller breasts could take as much as two and a half hours to cook, while roasting a 9-pound turkey breast from frozen could take as much as six hours.
Traditional Turkey Breast Recipes
Most traditional turkey breast recipes require turkey broth or, in a pinch, chicken broth. This broth is usually used when you roast the turkey. It keeps it from dehydrating over its long cooking time.
If you have extra broth, that's even better. It can be mixed with other ingredients to make gravy, stuffings and other side dishes. This results in delicious and nutritious traditional turkey breast recipes, like turkey delish.
Although many stuffings and gravies are traditionally not very diet-friendly, it's definitely possible to make ketogenic or paleo stuffings and gravies when you're making your own side dishes. Typically, turkey breasts will be free of bones. However, if you've acquired any extra turkey bones, you can make your own flavorful broth from scratch.
Given the amount of meat that comes from roasting a 9-pound turkey breast, you're likely to end up with leftovers. Fortunately, roast turkey leftovers are one of the best parts of cooking a turkey. You can make all sorts of other dishes with leftover turkey roast, including apple and cheddar quesadillas, turkey and vegetable stir-fries, or turkey Caesar salads.