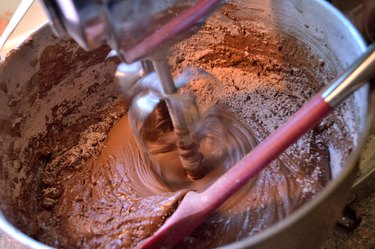 Eggs are used in baking as a binder for the rest of the ingredients, for leavening, and to provide texture to baked goods. Cookies in particular have better texture when eggs are included. But eggs are high in cholesterol, so if you want to limit your cholesterol intake and still enjoy your baked desserts, it is possible to bake cakes and cookies without eggs by using a variety of egg substitutes.
Eggless Cheesecakes and Brownies
Cheesecake is a rich dessert that can be made less fattening by replacing the eggs in the recipe. Silken tofu is one of the best egg substitutes when you are making dense desserts like cheesecakes and brownies. The silken tofu will not alter the taste of the finished dessert. Use ¼ cup of whipped silken tofu to replace one egg, or ½ cup of whipped tofu to replace three eggs in a dense cake or cheesecake recipe.
Eggless Cakes
Eggs hold cake ingredients together better, as well as helping them rise. In place of eggs you can use ½ medium banana, mashed, for every egg in the recipe. You can also use ¼ cup pureed fruit, such as applesauce, for each egg. Choose a cake recipe that only needs one or two eggs. Recipes that call for more than four eggs will not hold when you use egg substitutes.
Eggless Breads
If you need one or two eggs when baking dinner rolls and buns, white breads and banana breads, mix 1½ tbsp. vegetable oil with ½ tbsp. water and 1 tsp. of baking soda for each egg. Be sure to use a bread recipe that only needs one or two eggs for leavening. Another good egg substitute for bread recipes is the powdered egg replacement "Ener-G." Use 1½ tbsp. of Ener-G plus 2 tbsp. water to substitute for one egg.
Eggless Cookies and Muffins
Muffins and cookies are snack items that can be made without eggs by substituting the eggs with flax seeds. Grind flax seeds into a fine powder using a food processor or a coffee grinder. For each egg, add 1 tbsp. ground flax seeds to 3 tbsp. of warm water. Whisk or beat the mixture until it turns gooey, or leave the mixture for two minutes to soak the fine flax powder. Mix the ground flax seeds and water before you add the mixture to the rest of the cookie or muffin ingredients.