You need a little fat, sugar and sodium -- a component of salt -- in your diet for good health. Fat helps cushion your organs, sugar provides a source of energy and sodium is an electrolyte mineral that helps regulate your blood pressure. But too much of any one of these nutrients in your diet can wreak havoc on your health, leading to obesity, high blood pressure and heart disease. If you've been advised to limit your intake of one or all of these substances, making foods low in them the base of your diet will help you follow your doc's orders.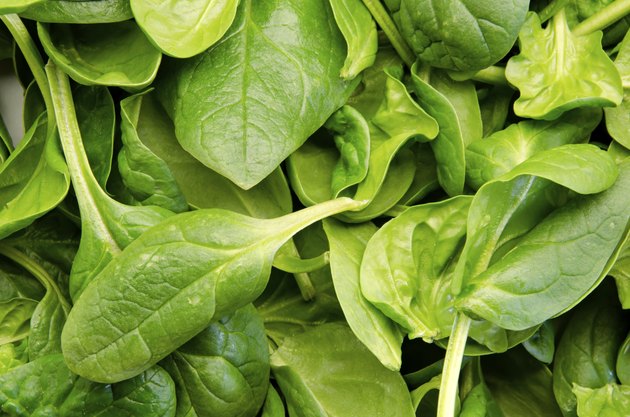 Your Go-To Foods
You can take a lot of the guesswork out of your restricted diet by choosing fresh, whole foods that haven't been processed. During processing, manufacturers often add fat, sugar and salt to improve flavor and prolong shelf life. Nonstarchy vegetables like spinach, carrots, mushrooms and cucumbers are a good bet. Beans are also nearly salt-, sugar- and fat-free and offer a good source of protein. Whole grains, such as brown rice, also meet the criteria for being nearly absent of fat, sugar and salt.
Other Options
Fruit and dairy contain natural sugars, not the added kind that is so bad for you. Choose nonfat versions of dairy and low-sugar fruits, such as berries, for your best options. Even nonfat dairy contains a small amount of naturally occurring sodium. Most types of meat are off the menu because of their fat content, and shellfish is off the menu because of its sodium content. Tilapia is one fish that is very low in both fat and salt. Egg whites are another source of protein that is low in all three nutrients.
Best Cooking Methods
You can keep your meals low in fat, sugar and salt by using particular cooking methods and substituting other seasonings for salt. Steaming, grilling and roasting, in most cases, do not require the addition of oil like frying or sauteing do. Don't add sugar to foods, and instead of adding salt to flavor cooked foods, use herbs and spices, such as cumin, dill, garlic and pepper. Lemon juice also makes a good substitute for salt on foods like steamed vegetables and fish.
A Note on Good Nutrition
It's not wise to cut out any food group or nutrient without specific consent from your doctor. Doing so can lead to nutrient deficiencies and their associated health problems. Reducing your intake of added sugars, unhealthy fats and excess sodium will go a long way toward improving your health, but the key is moderation. Work with your doctor to figure out the healthiest diet you can main, while allowing for safe indulgences every now and then.