Carbohydrates provide your body with essential energy, but an overload of carbohydrates can have negative side effects in your body and for overall health. Some of the common symptoms associated with a carbohydrate overload include high blood sugar levels, adrenal fatigue, bloating and weight gain. A carb overload is the physical act of eating an excessive amount of carbohydrates.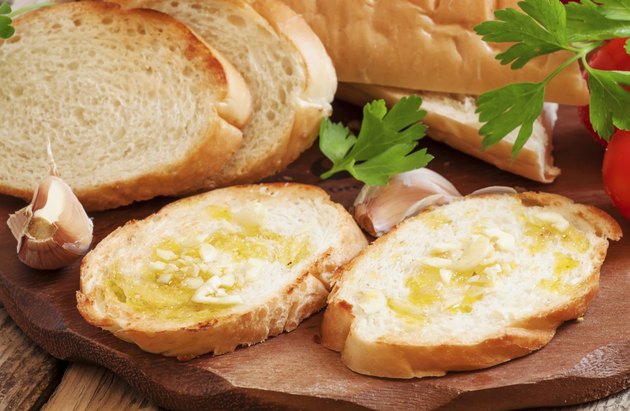 Facts on Carbs
Carbohydrates consist of cellulose, starches and sugars. You can get carbohydrates in many foods, including pastas, cereals, vegetables, fruits and many processed foods. There are two basic kinds of carbohydrate, simple and complex. According to "Essentials of Carbohydrate Chemistry and Biochemistry," simple carbohydrates usually give you quick but short-lived bursts of energy. Additionally, your body can easily digest and break down simple carbohydrates. You will find simple carbohydrates in foods containing refined sugars, such as candies, white breads and cakes. Complex carbohydrates consist of starches and fibers. Your body has a more difficult time digesting and breaking down complex carbohydrates. You will find complex carbohydrates in high-fiber foods such as fruits, vegetables and whole grains.
Weight Gain
According to "Food Carbohydrates: Chemistry, Physical Properties, and Applications," although eating carbohydrates can provide you with energy required by your body to function properly, overloading on carbohydrates can result in weight gain. Excessive carbohydrate intake results in an overproduction of glucose in your body. Your liver and muscles can process and use only a limited amount of glucose, and your body stores the excess glucose as fat. Over time, overloading on carbohydrates will increase your body fat and lead to weight gain.
Type II Diabetes
Another risk of overloading on carbohydrates is the development of type II diabetes. According to "Functional Food Carbohydrates," consuming an excess amount of simple carbohydrates increases the likelihood of developing this type of diabetes more than consuming an excess amount of complex carbohydrates. Type II diabetics is a condition in which your body either cannot produce an adequate amount of insulin or ignores the available insulin. As you overeat carbohydrates, your body will produce excess insulin. Such insulin overproduction can overwhelm your body and cause irregularities in insulin production.
Bloating and Adrenal Fatigue
A carbohydrate overload also can cause bloating. According to "Food Carbohydrates: Chemistry, Physical Properties, and Applications," carbohydrates cause your body to retain water. As you eat more carbohydrates, the salt in your diet causes your body to bloat. Adrenal fatigue is another possible side effect of a carbohydrate overload. Your adrenal gland releases hormones that handle stress. In order to stabilize the levels of hormones released, the adrenal gland requires protein and high-quality fats, but when you consume a high-carbohydrate diet, your adrenal gland can become exhausted, leading to fatigue.
Is This an Emergency?
If you are experiencing serious medical symptoms, seek emergency treatment immediately.