Regular exercise is one of the best things you can do to improve your overall health. Including jogging as part of your exercise routine may boost your cardiovascular fitness, aid in weight control and strengthen your bones. Jogging requires little special equipment and regardless of your current fitness level, you can slowly build jogging into your exercise routine.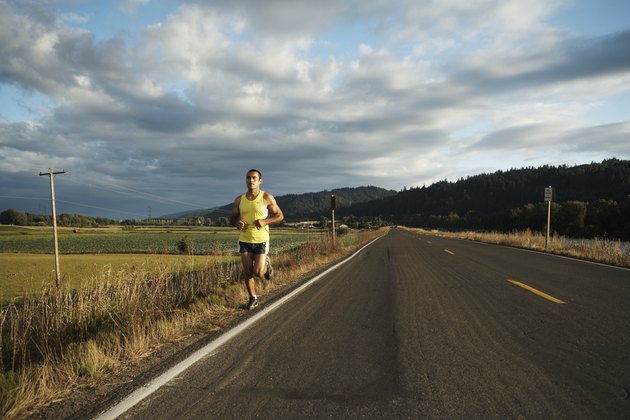 Hustle for Heart Health
Regular aerobic exercise, including jogging, helps strengthen your heart and lungs and reduces your risk for developing heart disease. As you jog, your heart works harder to deliver essential oxygen and nutrients to your body. Over time, this increased workload allows your heart and cardiovascular system to become more efficient. The American Heart Association reports that jogging aids in blood pressure control and promotes healthy cholesterol levels.
Work Off the Weight
Incorporating jogging into your routine can boost your exercise intensity and aid in weight control. The amount of calories you burn during your exercise session is influenced by your exercise intensity, the duration of your exercise session and your current weight. For example, a 154-lb. person walking at 3.5 mph for 30 minutes would burn approximately 140 calories. This same person jogging at 5 mph would burn approximately 295 calories in the same amount of time. If you are new to jogging, adding short periods of jogging to your walking routine is an effective way to increase your exercise intensity and increase your fitness.
Build Your Bone Health
Jogging is a weight-bearing exercise that promotes healthy bones and reduces your risk for developing osteoporosis, according to the National Institutes of Health Osteoporosis and Related Bone Diseases National Resource Center. Similar to your heart and muscles, bones respond to exercise by becoming stronger. After your 20s, bone mass tends to decrease and including regular jogging or other weight-bearing exercise helps prevent this bone loss.
Considerations
Consult with your doctor before starting a new jogging routine if you have been sedentary for some time or if you have a condition that may make exercise unsafe for you. Slowly and gradually incorporate more jogging into your workout routine to avoid potential overuse injuries. The American College of Sports Medicine recommends at least 30 minutes of aerobic exercise -- which can include jogging -- on five days each week. This amount of exercise will help you maintain good health and reduce your risk for developing chronic diseases.