Yoga is a lifestyle for some people. For others, it is an adjunct to their regular fitness program. And for some, it is a curiosity or something they've been meaning to try. The advantages of an ongoing yoga practice have been chronicled in scholarly journals and the number of aficionados grows every day. According to statistics compiled by "Yoga Journal," there was an increase of 10 million new yoga practitioners from 2001 to 2010. But are there disadvantages to practicing this 5,000-year-old system?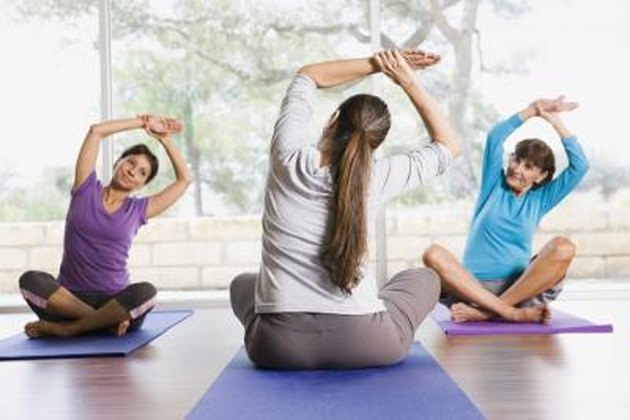 Cost
One disadvantage of yoga is that it can affect your bottom line. Prices for a drop-in class can be anywhere from $11 for a lunch-time special, to $17 for an "anytime" class, to $250 for a monthly package, as of June 2011. Costs for private lessons can be upward of $500 per week. Add to this the price of yoga mats and a carrier, straps, blocks and clothing and the expenditures can tax your budget.
Ethics
Finding a teacher who has been certified by a reputable school can be a disadvantage of yoga. There is no law in place that demands a yoga instructor be certified. The closest thing to a governing body is the Yoga Alliance, which is an organization that was cobbled together in 1999 by two volunteer groups called Unity in Yoga and Ad Hoc Yoga alliance. They developed a 200- and 500-hour teacher training program that some would-be teachers feel give them an edge in the competitive yoga teaching community. But not all people who aspire to be yoga teachers can afford to spend that much time or money on their accreditation and choose to hang out their shingle based on mere passion for the discipline. Be choosy.
Yoga as Therapy
People seek the benefits of yoga for many different reasons. They could have body issues such as being overweight or underweight. They could have medical concerns such as multiple sclerosis or chronic back pain. The field of yoga therapy has grown exponentially as more studios cater to folks willing to experiment with healing methods beyond traditional medicine. Iyengar yoga, a system that relies on props such as walls and pulleys, was developed by B.K.S. Iyengar in the early 20th century. Iyengar was dealing with his own health issues. But finding a yoga therapist who has had the requisite training and is affordable is another disadvantage of yoga.
Ability
When you think of yoga, you can't help but recall pictures of very slim, athletic men and women on the covers of magazines twisted and bent into striking poses. Yoga is not exclusively for the thin and fit, but one of the disadvantages of yoga is that not all poses can be practiced by everyone. Men, in particular, lack the flexibility of women. They make up for it in strength, but yoga is about exceeding your bounds, and injuries can occur when men try too hard. In addition, people who weigh more than they want to often look to yoga as a way to lose weight. There are poses that require folding your body in half, which is impossible for someone with extra weight around her middle.