Cream of Wheat is a hot breakfast cereal that is made by combining packaged ground wheat with warm water or milk. As you stir the components together, the cereal thickens and develops the consistency of porridge. A single serving of Cream of Wheat is low in calories and can be a healthy, filling meal in a balanced weight loss diet.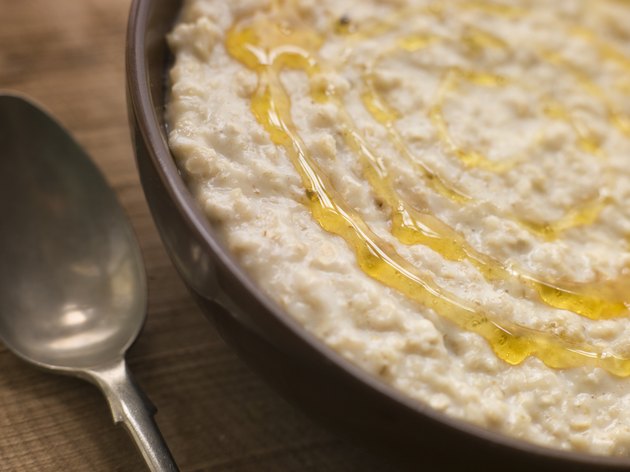 Benefits
To get the most nutritional and weight loss benefits from Cream of Wheat, choose a variety made with mostly or entirely whole grains. Some Cream of Wheat varieties are produced with refined wheat that has had its bran and germ removed, and its fiber and protein counts are lower as a result. According to ChooseMyPlate.gov, however, Cream of Wheat made with whole grains can contribute to reducing risks of constipation and heart disease, as well as aiding healthy weight loss and weight management. The extra fiber in whole grains can help produce feelings of satiation, which can encourage you to consume fewer net calories and stay full for longer periods of time.
Downsides
Unfortunately, Cream of Wheat isn't a very balanced meal on its own, and a single serving doesn't contain quite enough calories to work as a substantial replacement for a fuller meal. Ideally, "Cooking Light" registered dietitian Holley Johnson Grainger notes, a balanced, filling breakfast should contain healthy fat, lean protein and complex carbohydrates. By itself, Cream of Wheat contains very little protein and fat. To minimize total calories, but create a better variety, serve the cereal with skim milk or yogurt and a handful of nuts or nut butter.
Nutrition Information
According to the USDA, a 1-cup serving of cooked Cream of Wheat cereal contains 126 calories, 3.5 grams of protein, 0.5 grams of fat, 26.5 grams of carbohydrates, 1.5 grams of fiber and no sugar. Keep in mind that those values apply to the cereal without any additions, but if you make Cream of Wheat with a cup of low-fat milk instead of water, you'll add approximately 140 calories, 9.75 grams of protein, 5 grams of fat, 13.5 grams of carbohydrates, no fiber and 13 grams of sugar. Stirring cream, sugar, dried fruit and other accompaniments into the cereal will also add fat and calories, so keep those additions to a minimum if you're trying to slim down quickly.
Considerations
Before using Cream of Wheat as a weight loss aid, or making any big changes to your current eating plan, talk with your physician or a registered dietitian. Due to its relatively low level of energy density, Cream of Wheat can function as a healthy part of a low-calorie diet, but it will be most successful when you combine it with fruits, vegetables, lean proteins, low-fat dairy and other whole grains to meet all of your nutritional needs.