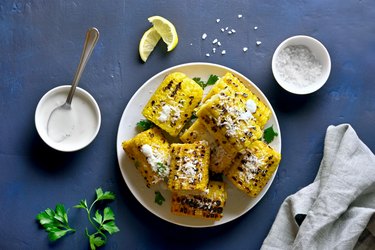 Charred, nutty-tasting corn on the cob is a summertime favorite in many households. In Mexico, it's a popular street food rolled in a cheesy, creamy topping, but you don't need a grill to create that street fair vibe. Broiled corn on the cob can be prepared year-round.
Corn Cob Broiler Process
There are definitely other alternatives to boiling corn in a large pot, including making oven roasted corn on the cob in foil. But popping it under the broiler is the closest thing to creating the effect of an outdoor grill or the street fair treat known as "elote." The process is a simple one:
Shuck each ear of corn, removing both the outer husks and as many corn silks as possible.
Set your top oven rack about 6 inches beneath the broiler element.
Turn the broiler on so that it will preheat.
Put the corn ears on a rimmed baking sheet.
Brush the ears with oil or melted butter, making sure to coat all sides of the corn.
Put the baking sheet into the oven, setting in on the rack under the broiler.
Set your oven timer for 10 minutes.
Turn the ears every few minutes, to ensure even browning.
Remove after about 10 minutes, or when you get the exact amount of "char" you prefer.
Adding Special Touches
If you're planning to make a traditional Mexican-style topping to go along with the broiled corn on the cob, make it either while the corn is broiling, or prior to prepping the corn. (Of course, you can also use the topping on boiled ears or after making oven-roasted corn on the cob in foil.)
To make a traditional elote topping, whisk together 2 parts grated Cotija cheese, and 1 part each mayonnaise and sour cream. Cotija cheese is a firm Mexican queso. If you can't find it, consider substituting crumbled feta, or grated Romano or Parmesan.
To this base, add lime juice, chopped cilantro (or basil, if you dislike cilantro) minced garlic and chili powder. Because strong flavors are involved, feel free to make it as strong, or mild, as you prefer.
For four ears of corn, you'll want about 1 cup worth of the elote mixture. Slather it onto the ears when they're removed from the broiler, coating each ear evenly. It's traditional to dust on a little extra grated cheese and chili powder to finish the presentation.
Prefer something lighter? Use the same basic idea to prepare your corn, but after broiling or pan-cooking the ears, replace the cheesy topping with an avocado-lime juice topping like the one featured in our recipe for Mexican Street Corn With Avocado Dressing.
Keeping It Healthy
Whether you like grilled, boiled, broiled, or oven roasted corn on the cob in foil, cooked corn is a good source of fiber, and even delivers 3.5 grams of protein per serving. The Whole Grains Council also points out that fiber-rich corn counts as a whole grain, but because it's also a vegetable, it boasts advantages other grains don't — such as 10 times the amount of vitamin A found in other grains.
Corn on the cob also provides vitamin C, potassium, magnesium, zinc and iron. A medium ear has about 100 calories, 22 grams of carbs and minimal saturated fat, according to the USDA.
Toppings, of course, are where you can potentially make a nutritious side dish less healthy. USDA charts show that a generous slathering of butter doubles the calorie count, and adds more than one-third of the saturated fat you should have for the entire day. A heavy hand with a salt sprinkler — say, about 1 teaspoon's worth — will land you with a day's recommendation full of sodium.
When you are making a classic corn on the cob broiler topping in the Mexican street food style, the combination of cheese, sour cream and mayonnaise can add unwanted fat and calories. Omit the traditional topping altogether, or make the lower-fat version suggested by Johnson & Wales' "Eat Healthy" program.

Their version substitutes half of the mayonnaise with Greek yogurt, and calls for lower-fat sour cream and mayonnaise. The final product is about 340 calories per serving of Mexican-style broiled corn, with 23 grams of protein and 17 grams of fat.