One way to preserve an overabundance of cauliflower is to freeze it until you are ready to add it to a recipe. Typically, vegetables are blanched before they are put in the freezer. Blanching is when vegetables are boiled for one minute to stop enzymes from degrading the taste, texture and color of your vegetables. It also helps to kill any bacteria that may be on your vegetables. However, you can freeze your cauliflower without blanching. The quality of your vegetables may degrade as a result, but they will still be safe to eat.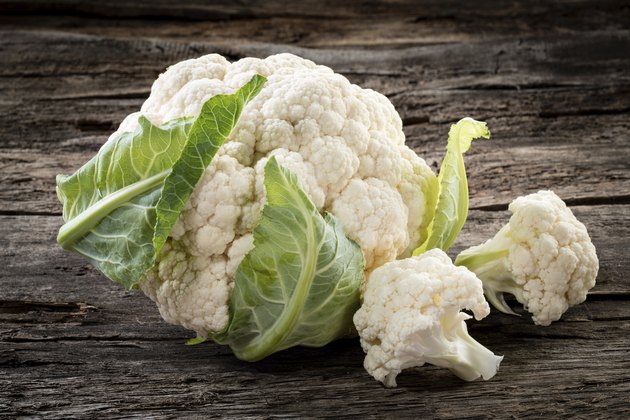 Step 1
Select cauliflowers heads that are firm and white. Wash the cauliflower under cool, running water to remove any debris.
Step 2
Use your knife to cut the cauliflower into 1-inch pieces. Fill a bowl with water. Add 1 tbsp. of salt for every cup of water to the bowl.
Step 3
Put your cauliflower into the salt water to remove any bugs, and set it aside. Drain the salt water off of the cauliflower after an hour. Rinse the cauliflower in cool, running water to remove any extra salt.
Step 4
Set your cauliflower aside until it completely dries. Gently pack your cauliflower into a freezer container so that each container is only two layers high. Put your cauliflower in the freezer for up to one year.
Things You'll Need
Knife

Bowl

Tablespoon

Salt

Freezer containers