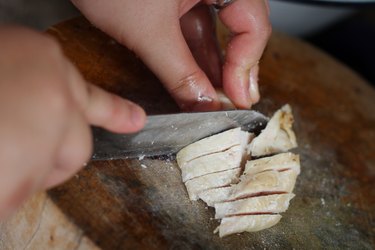 Duck breasts may be purchased with or without the skin. Removing the skin reduces the fat and calorie content of the duck. A 3-oz. serving of skinless duck breast contains 119 calories and 3 g of fat, according to the United States Department of Agriculture. A 3-oz. duck breast with the skin contains 172 calories and 9 g of fat. Skinless pieces of duck are best prepared sautéed, broiled or grilled.
Step 1
Slice off any skin on the duck with a sharp chicken knife. Trim off all pieces of excess skin and fat. Reserve the fat and skin to make gravy, if desired.
Step 2
Prepare a marinade for the duck. It may be as simple as coating the duck with olive oil, salt and fresh ground pepper. Additional seasonings that go well with duck include oregano, sage, thyme, allspice, garlic and coriander. Cover the duck with the marinade and wrap it with a piece of plastic wrap.
Step 3
Marinate the duck for one to two hours in the refrigerator. Under the skin of a duck is a thick layer of fat which tenderizes the meat during cooking. Marinades can help replace the fat removed when you take off the skin of the duck.
Step 4
Heat a large skillet over medium heat. Do not put any oil in the pan when cooking the duck.
Step 5
Set the duck breasts in the pan. Cook the breasts for approximately three minutes on both sides, until lightly browned.
Step 6
Use a meat thermometer to check doneness. Stick the thermometer in the thickest section of the breast. The internal temperature should read 165 degrees Fahrenheit.
Step 7
Remove the duck from the pan and set it on a layer of paper towels. Serve the duck immediately with your favorite sauce or gravy.
Things You'll Need
Duck breasts

Knife

Paper towels

Plastic wrap

Olive oil

Salt

Fresh ground pepper

Large skillet

Meat thermometer
Tip
Thaw the duck breast in the refrigerator before cooking.