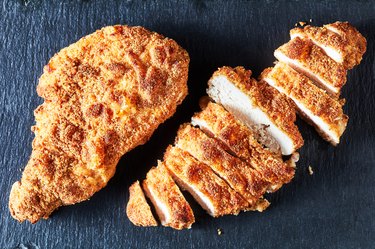 Known for its convenient operation, the George Foreman grill is a double-sided electric grilling machine that cooks both sides of the chicken at the same time, cutting your cooking time in half.
Unlike skillet frying, when you cook breaded breasts on the George Foreman grill, you add a bit of oil to the bread crumbs rather than to the pan.
Tip
When cooking breaded chicken on the George Foreman Grill, you must use boneless breast or thighs. If you're watching your fat and caloric levels, remove the skin from the chicken; you'll reduce the meal's calories by 48 percent and the fat by 89 percent.
Things You'll Need
Cooking spray

2 chicken pieces

Plastic wrap

Meat mallet or rolling pin

Chef's knife

Cutting board

2 large shallow bowls

1/2 cup bread crumbs

1/4 cup grated Parmesan cheese

1/2 tsp. salt

1/8 tsp. pepper

1 tsp. minced chives

1/2 tsp. dried basil

1 tbsp. olive oil

1 egg

Whisk
Prepare the George Foreman grill for grilling: Attach the removable grill plates to the machine and spray them with nonstick cooking spray. Plug the grill in and preheat it to 375 degrees Fahrenheit.
Wrap a piece of plastic wrap over both sides of the chicken pieces to reduce splatter.
Pound the meat lightly with the smooth side of the meat mallet to flatten it to a uniform thickness of about 1/2 inch. If you don't have a meat mallet, use a rolling pin to flatten the chicken.
Trim fat from the chicken pieces and cut them into serving portions that will fit on the George Foreman Grill.
Combine the bread crumbs, Parmesan cheese, salt, pepper, chives and basil in a shallow bowl.
Drizzle the olive oil over the crumbs and mix it in well so all the crumbs are coated.
Beat the egg with a whisk in a separate large, flat bowl.
Dip the chicken pieces into the egg mixture, covering both sides, and allow any excess egg to drip off.
Place a piece of egg-coated chicken into the breadcrumb mixture and spoon some bread crumbs onto the top of the meat.
Press down firmly on the chicken with the heel of your hand and your fingers to press the crumbs into the meat.
Flip the meat over and push down firmly to press more bread crumbs into the second side. Repeat with every piece of chicken.
Place the breaded chicken pieces on the grill, close the lid and cook it for 4 to 6 minutes or until the meat is cooked and the juices run clear.
Tip
When breading the chicken, use one hand for dipping the meat into the egg and the other hand for spooning bread crumbs onto and pressing the meat into the bread crumbs.