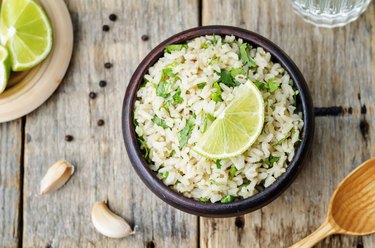 Rice is a staple grain in many easy recipes, but on its own, it's not particularly exciting. Rice seasoning and extra ingredients can add flavor and take your basic rice recipes to the next level. All you need is the willingness to get creative in the kitchen.
Tip
Spice up plain rice by adding different liquids, spices and herbs to the dry grains before cooking. You can also add in spices at the end.
Use a Rice Cooker
Humans have been consuming rice for thousands of years, and according to the Harvard T.H. Chan School of Public Health, it's a high-calorie grain full of fiber and an abundance of minerals. The best way to cook rice thoroughly and efficiently is by using a rice cooker. Each brand is slightly different, so there's no one-size-fits-all approach to cooking perfectly fluffy rice — you'll need to pay attention to the instructions that come with your device.
Typically, you'll use a ratio of 1 cup of rice to 1 cup of water or broth, then close the lid and let the rice cooker do the rest. On its own, plain rice can make a surprisingly versatile side dish or a base for grain bowls and stir-fries.

Although you don't always need extra flavor, you might sometimes want to switch things up by adding seasonings or spices, or by cooking the rice in a different way. You can vary the flavors depending on which foods you're pairing with your rice.
Toast and Add Spices
Before you cook the rice, you can toast it for a bit of extra nutty flavor. You can do this in the oven or on the stove, adding butter and a bit of seasoning to kick the flavor up even further. It should take less than 10 minutes, and then you can cook it, according to package instructions, in your rice cooker. This isn't a necessary step, but if you have the extra time, it's a fun way to bring out a different flavor profile from plain white or brown rice.
To add flavor easily to rice recipes, put the spices in before you cook the grain. Because rice on its own has such a subtle flavor, it pairs well with almost any combination — there are countless things to add to rice to make it more appetizing. Try adding almond, parsley, garlic powder, and black pepper for a simple brown rice pilaf dish, courtesy of the USDA's ChooseMyPlate.gov.
For a delicious flavored rice in the rice cooker, try blending herbs in a food processor with the water or broth, then adding this mixture to the rice and letting it cook. It will turn the rice a slight green color and let the herbal flavor soak into each grain.
Use Different Broths and Liquids
While your rice cooker may call for water, you can cook rice in any type of liquid, as long as you use the right amount. Chicken, beef and vegetable broth are all great options.
Unsweetened coconut milk also makes a delicious base for rice, giving it a tangy flavor that pairs well with pulled meat or curry. When you let the rice cook and marinate in flavorful liquids, it adopts the complexity of those flavors when it's finished.
You can also add ingredients to cooked rice to make it more interesting. Cilantro-lime rice is perfect for Mexican-inspired dishes, and can be made after the rice is finished. Just add chopped cilantro and lime juice for some extra zest.
No matter which flavors you pair with your rice, adding spices and liquids can take boring meals to the next level. It's important to note, though, that Consumer Reports has warned about high arsenic levels in certain varieties of rice. If you consume the grain in high quantities, it's worth being mindful of where your rice is coming from (especially if you're serving it to kids).
Experiment with flavor combinations to see what you prefer, and don't feel limited by your rice cooker's basic instructions. This adaptable grain makes an ideal side dish or base starch for almost any recipe.