Goose breast, unlike chicken and turkey breast, is dark meat. In fact, it's quite dark, with a considerably stronger flavor than dark leg meat from more familiar poultry. Because it has a potent taste, and because it this wild game easily dries out when even slightly overdone with a dry cooking method, braising is a good option for cooking a deboned goose breast. This wet cooking method provides extra flavor to simultaneously temper and complement the strong flavor and helps keep the bird moist and tender.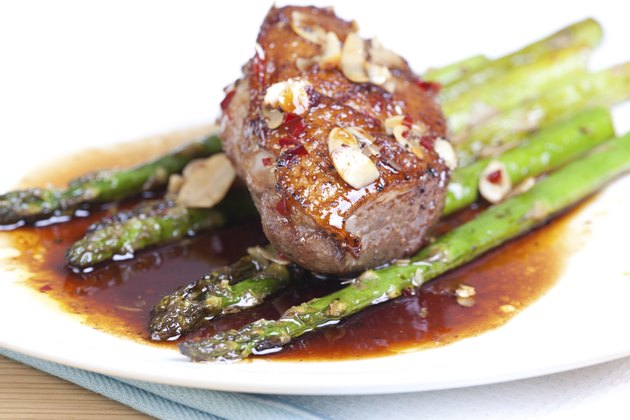 Step 1
Pull off any fatty deposits still stuck to the goose breasts. When rendered, these fatty deposits make an excellent, flavorful cooking fat, so freeze them until you're ready to use them.
Step 2
Pat the goose breast with salt and pepper to taste. Add anything else you'd like to use to season the poultry, like coriander, thyme, marjoram or other herbs or spices.
Step 3
Heat up a Dutch oven or deep skillet on a burner over high heat. Pour in enough cooking oil to cover the bottom and move it around to coat.
Step 4
Lay the goose breasts in the pan and reduce the burner to medium-high. Sear the bottoms until they're well browned, which should take about four minutes, then turn the breasts and do the same on the other side.
Step 5
Remove the breast meat and saute some vegetables if you'd like to include them. You could use chopped carrots, celery, onion, green beans or others. Garlic cloves work well, too. Cook for about five minutes, until the additions start turning tender.
Step 6
Add a few splashes of red or white wine, cider vinegar or broth to the pan. Scrape the bottom vigorously with a rubber or plastic spatula. This is called deglazing, and it's done because the cooked on bits stuck to the bottom of the pan add a lot of flavor to your preparation.
Step 7
Return the deboned goose breasts to the pan and reduce the heat to medium-low. Make sure they aren't submerged more than about one-third of the way in the braising liquid; if they are, scoop some of the liquid out. Also add any desired seasonings, including any you used to season the breasts before searing them. Cover the pan.
Step 8
Simmer the goose breasts, turning them over every few minutes. Cook them until they reach 165 degrees Fahrenheit at center. Use a meat thermometer to make this determination. Depending on the thickness of the breasts, this should take about 15 to 20 minutes. Spoon some of the braising liquid over the breasts when you serve them.
Things You'll Need
Salt and pepper

Complementary seasonings (optional)

Dutch oven or deep skillet with lid

Cooking oil

Vegetables

Garlic cloves

Braising liquid

Spatula

Meat thermometer

Spoon