If you adopt a vegetarian diet to maintain a healthy weight or lose weight, you should see the effects within a week. However, not all vegetarian diets produce the same results or do so at the same rate. Consider your portion sizes, activity level and food choices when using a vegetarian diet for weight loss and general health purposes. Speak with your doctor about any health concerns before starting a vegetarian diet.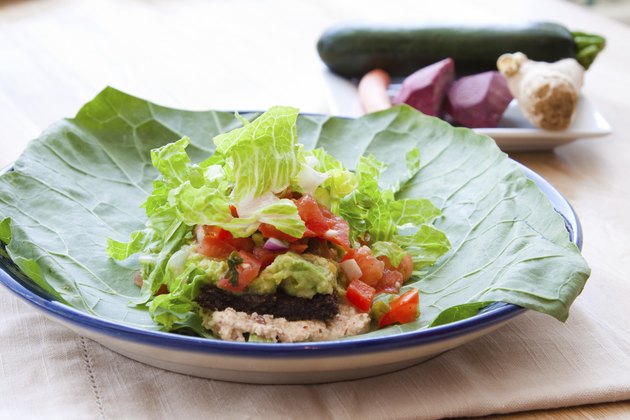 Types of Vegetarian Diets
Select a vegetarian diet that has balanced nutrition but also suits your taste and your lifestyle. A general vegetarian diet excludes meat and meat by-products like lard and includes plant-based foods as well as dairy products. A stricter vegetarian diet is a vegan diet, which eliminates eggs and dairy. Raw food dieters eat a wide variety of plant-based foods but do not heat or cook them.
Food Choices
Making proper food choices will help you see the result of a vegetarian diet sooner. Select low energy dense foods high in fiber but low in calories to help you feel more full. Start your day with a bowl of blackberries or unsweetened grapefruit to burn fat. Snack on fiber-packed vegetables and fruits with high water content like carrots, celery, citrus fruit, apples and leafy greens. Center lunch and dinner around plant-based foods such as unsweetened whole grains, legumes and lentils. Eat small servings of more caloric foods such as seeds, nuts, avocado, canola oil, flaxseed oil, coconut milk and olive oil.
Lifestyle Changes
The best way to get quick results from a vegetarian diet is to reshape your shopping, cooking and dining habits so that you eat a diet naturally low in calories. Select fresh, whole foods rather than frozen entrees, junk food, snack food and fast food, all of which often contain caloric sugar, syrups, trans fat and saturated fat. If you still eat dairy, switch to nonfat and low-fat options. Control your portion sizes by reserving half your plate for a leafy green salad dressed with olive oil. At restaurants and while cooking, choose broth-based soups, dressings and gravies. Grilling and steaming are more healthful cooking styles than frying and deep-frying.
Exercise
Maximize the effects of a vegetarian diet by adding exercise to your routine. If you consume between 1,500 and 1,800 calories per day and exercise vigorously for one hour per day, you can lose up to 2 lbs. Your body will experience effects you cannot see but that you feel, including increased energy, improved digestion and cardiovascular health.