It is already noon and you forgot to thaw out something for dinner. Instead of opting for fast food, use your slow cooker to create a dinner that would get rave reviews. One of the many benefits of a slow cooker is that you can place a frozen piece of meat into the pot and it will not only thaw safely, it will cook completely -- making for one delicious, home-cooked meal.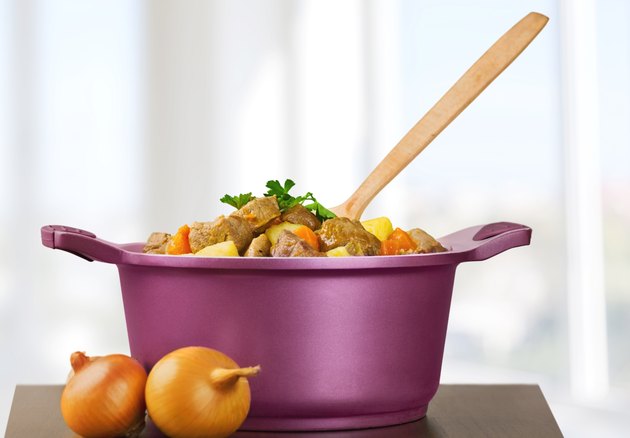 What Can Be Cooked Frozen?
When it comes to cooking frozen meat in a slow cooker, anything is possible. No matter if it is chicken or a large ham, as long as you have enough time before dinner and the food item fits into the cooker, you can cook it. For instance, place a whole frozen chicken in the slow cooker and pour one can of soda on it. Add a bottle of barbecue sauce and place the lid on the pot. In about 8 hours, you will have some delicious barbecue chicken that is cooked completely.
Low Heat
When starting the slow cooking process with frozen food, always use the "Low" setting. This will allow the food to thaw completely and then cook slowly, as the temperature compares to an oven temperature of 150 to 200 degrees Fahrenheit. With the "Low" setting, allow at least 6 to 8 hours for the food to cook. If you are cooking a larger piece of meat, such as a ham or roast, you may need to slow cook up to 12 hours. Use a thermometer to check the internal temperature of the food item; for meat, the internal temperature should be no less than 165 degrees Fahrenheit.
Even though you may be in a hurry, never use the "High" setting of your slow cooker with frozen meat. This setting will rush the thawing process, which may leave the internal part of the meat frozen while the outside part of the meat is done.
Meal Ideas
Slow cookers are often associated with beef roast and vegetables. To prepare this meal, place a frozen beef roast in the slow cooker and add one jar of beef gravy to the pot. Sprinkle a pack of onion soup mix over the meat and cover with the slow cooker's lid. Cook the roast on "Low" for 7 hours before adding your favorite vegetables such as carrots, potatoes and celery. Cook everything for another hour and then serve with mashed potatoes and cornbread.
Considerations
Before cooking any frozen item, always check for freezer burn. This will be a discolored area on the meat and may have ice crystals surrounding it. If you find that the meat is freezer burned, throw it away. Also, if the meat has a strange odor to it, discard it immediately.