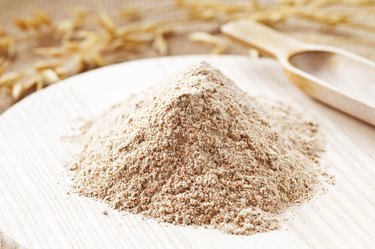 Ragi java, also known as ragi malt, is a thick, warm drink popular in southern India. It is made by cooking ground finger millet, also known as ragi, with water or milk. Ragi java is a highly nutritious drink due to the ragi nutrition profile, which includes high amounts of minerals and vitamins.
Finger Millet Nutrition Data
Finger millet is a cereal grain more commonly known as ragi or madua in India, dagusa in Ethiopia and rapoko in South Africa. It is gluten free so can be a great option for people with celiac disease or other forms of gluten intolerance.
According to a June 2016 paper published in Frontiers in Plant Science, finger millet's micronutrient density is higher than the world's major cereal grains, including wheat and rice. It is rich in the minerals calcium and iron, the amino acids lysine and methionine and the polyunsaturated fatty acids linoleic acid and α-linolenic acid.
Apart from the above, finger millet is also rich in fiber and the vitamins thiamine, riboflavin, niacin and tocopherols. According to the same paper published in Frontiers of Plant Science, a 100-gram serving of finger miller contains:
336 calories
7.7 grams of protein
1.5 grams of fat
11.5 grams of fiber
350 milligrams of calcium (35 percent of daily value)
3.9 milligrams of iron (22 percent of daily value)
137 milligrams of magnesium (34 percent of daily value)
283 milligrams of phosphorous (28 percent of daily value)
408 milligrams of potassium (12 percent of daily value)
0.42 milligrams of thiamine (28 percent of daily value)
0.19 milligrams of riboflavin (11 percent daily value)
1.1 milligrams of niacin (1 percent of daily value)
Ragi Java: A Calcium Powerhouse
There aren't many nutritional disadvantages of ragi. According to a July 2017 paper published in _Frontiers in Plant Scienc_e, finger millet is the richest source of calcium when compared to all cereal grains. It has 10 times more calcium than brown rice and three times more calcium than milk.
According to the Food and Drug Administration, calcium helps with many different processes within the body. The mineral plays a role in blood clotting, bone and teeth formation, hormone secretion, muscle contraction and healthy nervous system function. Besides finger millet, calcium is also found in large amounts in canned seafood with bones, dairy products, green vegetables and tofu.
Some ragi java recipes call for the addition of milk or buttermilk. Both of these dairy products also contain calcium. One fluid ounce of whole buttermilk contains 35.1 milligrams of the mineral, which is 3.5 percent of the daily value, according to the USDA. One fluid ounce of whole milk contains 34.5 milligrams of calcium.
Preparing Ragi Java
Ragi java can be made sweet or savory, according to the Isha Institute of Inner Sciences. It is often made for breakfast in India and takes about 15 minutes from start to finish. The savory version is made by boiling about 4 tablespoons of sprouted or unsprouted finger millet flour with water, adding buttermilk after the boiled mixture cools and seasoning it with spices such as curry leaves, onions or ground cumin.
In the sweet version of ragi java, milk can be left out and the concoction is sweetened with white table sugar or jaggery, a type of cane sugar consumed in India. You can add fresh or dried fruit, nuts and spices such as cardamom and cinnamon to flavor your sweet ragi java. If you are hoping to increase your calcium, fiber or iron intake, ragi java can be a great, low-fat and low-calorie addition to your diet.