The thyroid is a gland found on the front of the neck. It is responsible for secreting hormones that help to regulate body temperature, use energy and keep the organs functioning properly. The thyroid secretes several types of hormones. The main hormones produced by the thyroid gland are T3 and T4, also called thyroxine. The body also produces thyroid stimulating hormone, or TSH, which is a substance that lets the thyroid know how much T4 to create. Taking medications and some kinds of vitamin supplements, such as niacin, can affect the amount of thyroid hormones that your body makes.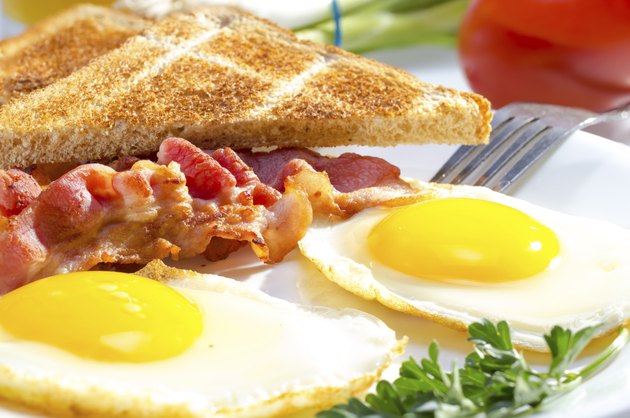 Hypothyroidism
Hypothyroidism occurs when the thyroid does not create enough hormones to meet the body's needs, either due to conditions such as autoimmune disorders, inflammation of the thyroid gland or reduced iodine intake. When this occurs, you must take thyroid supplements to correct the hormone balance, and some people need to take the supplements for life. Hypothyroidism typically causes symptoms of dry skin, malaise, fatigue and problems with memory. According to the American Thyroid Association, more than 50 percent of people who have hypothyroidism are not even aware that they have the condition.
Niacin
Also called vitamin B-3, niacin is a vitamin often found as part of supplements or in combination with other vitamins as part of a daily multi-vitamin. It can also be found in many different types of foods, including eggs, milk, yeast and fish. Supplemental niacin is often taken for vitamin B-3 deficiencies as well as for the management of high cholesterol because it helps to control triglyceride levels. People who take niacin often take doses of between 1,200 to 1,500 mg per day, but doses up to 3,000 mg per day may be necessary to help control cholesterol levels.
Interactions
According to the Susan G. Komen Foundation, taking niacin may disrupt thyroid hormones, which may require an alteration dosage if you are taking thyroid replacement therapy. Niacin supplements may cause a drop in thyroid hormone levels, resulting in hypothyroidism. If you are taking niacin supplements as part of a regimen to reduce your cholesterol levels, you may experience lower levels of certain types of thyroid hormones, such as thyroxine, but not necessarily a reduction in all thyroid hormones. Because of this, you may not experience symptoms of hypothyroidism when taking niacin, but lab tests may reveal otherwise.
Considerations
If you are seeking treatment for thyroid dysfunction, notify your doctor if you take niacin supplements. Your doctor should be aware of all medications and herbal supplements that you are taking in case of interaction between medications that may cause negative side effects or may reduce potency. Vitamin supplements, such as niacin, are available without a prescription but may not be carefully regulated. Some side effects of niacin include skin flushing, dry skin and itching, nausea, vomiting and diarrhea. If you experience negative side effects or you find that your thyroid condition is worsening while you are taking niacin, discontinue using this supplement and contact your doctor.