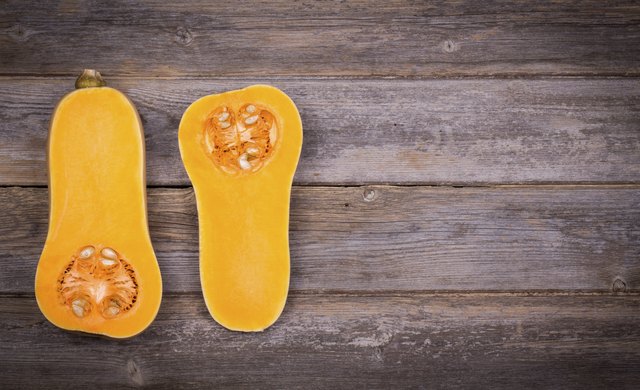 Boil butternut squash to make it tender for eating on its own or using in other dishes. This quick way of cooking butternut squash produces soft chunks in about 10 minutes. The general belief is that adding salt to boiling water makes the water boil at a higher temperature, reducing cooking time. You can test if this belief holds true when you make this recipe.
Step 1
Slice the squash in half through the middle with a clean, sharp knife.
Step 2
Scoop out the seeds with an ice cream scoop.
Step 3
Peel off the exterior of the squash with a vegetable peeler or paring knife.
Step 4
Lay each squash half on its side and slice into 1-inch thick rounded pieces. Cut these pieces into evenly sized chunks.
Step 5
Fill a large pot halfway full with water and place it on a stove top burner set to medium-high heat.
Step 6
Pour 1 tbsp. of salt for every 4 qt. of water into the pot.
Step 7
Add the squash chunks just as the water starts to boil.
Step 8
Cook the squash until it becomes tender, about seven to nine minutes, or until you can easily pierce it with a fork.
Things You'll Need
Knife

Ice cream scoop

Vegetable peeler or paring knife

Large pot

Kosher or sea salt

Fork
Tip
Remove the squash from the burner, drain it in a colander and allow it to cool slightly before serving it or adding it to other dishes.