Buildup of water in the lungs can have fatal consequences if not recognized and treated immediately. Typically, fluid in the lungs stems from physiological causes, such as pulmonary edema, but it is possible to accumulate water in the lungs from swimming. Water that is unintentionally swallowed while swimming could end up in your lungs. In certain cases, swallowing too much water can result in secondary drowning, which can occur after a person has been out of the water for a considerable time.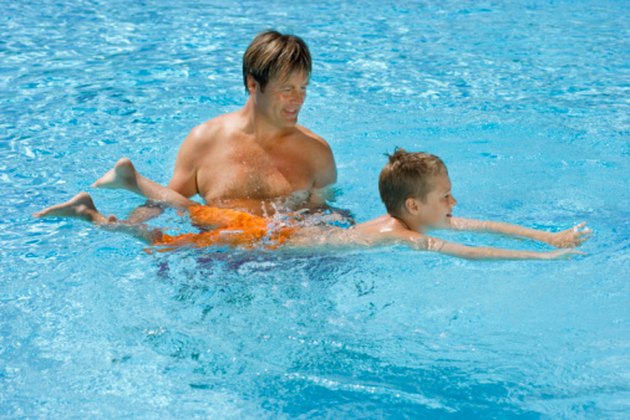 Breathing
Swimming is a healthy physical activity that nearly anyone can enjoy, but there are plenty of risks involved. Some of the perhaps lesser-known risks are those associated with swallowing water. Beginners and children are prone to swallowing water unintentionally when learning how to swim due to their inexperience and breathing technique. Learning how to breathe properly when swimming is important, as it helps you develop a cadence and rhythm when performing certain swimming strokes. The key to keeping water from entering your mouth is to consistently exhale as your head nears the water surface.
Secondary Drowning
Secondary drowning is a rare but potentially deadly phenomenon that can occur well after a person has gotten out of the water. Along with near drowning -- an instance in which a person almost suffocates -- secondary drowning is considered a post-immersion respiratory syndrome. Swallowing too much water while swimming may not immediately cause any adverse affects, but the buildup of water in the lungs can cause a deterioration of pulmonary function. This deterioration is the result of oxygen's inability to be passed through the air sacs in the lungs due to the presence of fluid. Such a shutdown in pulmonary function can occur up to 48 hours after swimming.
Symptoms and Treatment
Determining whether too much water has been swallowed and entered the lungs can be challenging. If you suspect you have swallowed an unusually high amount of water, consult a medical professional immediately. He should perform a physical examination and listen to your lungs using a stethoscope. This is known as auscultation, during which you inhale and exhale deeply. A crackling sound in the lungs is a strong indicator that fluids have collected. Pulmonary and cerebral edemas can develop if the water is not drained. In such cases, the patient's body temperature should be lowered in an effort to minimize any permanent cerebral damage.
Swimming Environments
If you are a beginner, avoid swimming in natural bodies of water. Swimming in the ocean can present a variety of dangers and requires experience. Choppy waters and swells can make it difficult to breath if you are not familiar with how to handle such conditions. Rivers with strong currents also pose a risk. Currents can easily submerge a person or produce rapids that splash water. As a beginner, limit yourself to pools, where conditions are relatively controlled. This greatly reduces the chances that you might swallow water.