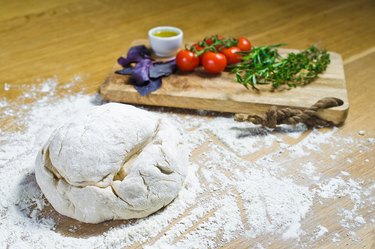 No yeast on hand? Not a problem — at least when it comes to making a quick pizza dough. Self-rising flour can mimic the effect of yeast in pizza dough because it contains baking powder, which allows bread products to rise without any additional help.
Although you don't need yeast to make self-rising flour for pizza dough, you will need a cup of Greek yogurt, which helps create a reaction with the baking powder that gives the crust a slight lift.
How to Make Self-Rising Flour
If you don't have self-rising flour in the pantry, it's easy to make your own with just a couple of ingredients. Combine 1 cup of unbleached all-purpose flour with 1 1/2 teaspoons of baking powder and 1/4 teaspoon of salt to make one cup of self-rising flour.
Two-Ingredient Pizza Dough Recipe
‌Yields two 10-inch pizza crusts‌
2 cups self-rising flour
1 cup full-fat Greek yogurt
Combine the flour and yogurt in a large bowl.


Mix it with a fork until the dough comes together.


Dust a work surface with flour, turn the dough out and knead it until the dough goes from shaggy to smooth. Add more flour if necessary; the kneading should take about 8 minutes.
Tip
If the self-rising flour pizza dough is too dry, add a tablespoon of water at a time as you knead.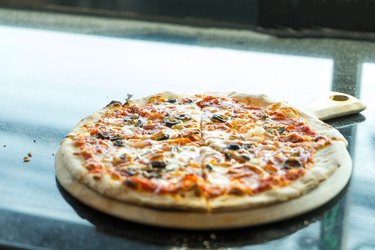 Now that your dough is officially pizza dough, follow these steps for a delicious homemade pizza.
Once the dough comes together, divide it into two and roll it into balls.
Using a rolling pin, roll out the dough into two 10-inch pizza crusts.
Flour a pizza peel or inverted baking sheet and put the dough on the sheet.
Preheat the oven to 450 degrees Fahrenheit.
Top each pizza crust with your choice of sauce, cheese and toppings, leaving a half-inch border around the edge.
Bake the pizza for 8 to 10 minutes until the dough has turned golden and the cheese is melted.
Remove the pizza from the oven, transfer it to a cutting board and let it sit for 5 to 10 minutes before cutting and serving.
Tips for Making the Pizza Dough
‌Dough texture:‌ If you want the pizza dough to have a crunchier texture that's similar to thin crust pizza, use two-percent or fat-free Greek yogurt. The fat in whole Greek yogurt creates a fluffier texture. Lower-fat yogurt will also make the dough a bit more difficult to knead.
‌Flavor profile:‌ To mix up the flavors, try using different herbs and spices in your pizza dough. Options include garlic, oregano, basil or parsley, among others. Mix them into the dough when you're kneading the yogurt and flour together.
‌Use a stand mixer:‌ Although the dough only takes about 8 minutes to knead into the right elasticity, you can use a stand mixer instead of your hands, if desired. Fit the mixer with the dough hook, mix the ingredients in the bowl and then let it run at medium speed until the dough has reached the right texture.
‌Yogurt substitution:‌ If you're out of Greek yogurt, substitute sour cream for a similar result. The baking powder in the self-rising flour needs an acid to interact with to create a slight lift in the dough.
‌Make in advance:‌ To make the pizza dough in advance, follow the steps up to rolling out the dough. Par-bake the dough in the oven, wrap it up and store it in the freezer until you're ready to make the pizza.
‌Make other crust dishes:‌ This same basic recipe can be used for other dishes that have a pizza crust-like texture, such as breadsticks, calzones or strombolis.