An all-purpose dairy food enjoyed for centuries, yogurt is an ingredient in traditional dishes from countries around the world. Naturally low in fat, low in calories and high in protein, yogurt has become popular as a healthful baking ingredient in commercial goods as well as in home baking. If your recipe calls for yogurt and you have none, you can substitute other common dairy products that have similar characteristics to yogurt, or use a non-dairy replacement. Your choice might depend on the purpose yogurt serves in the recipe.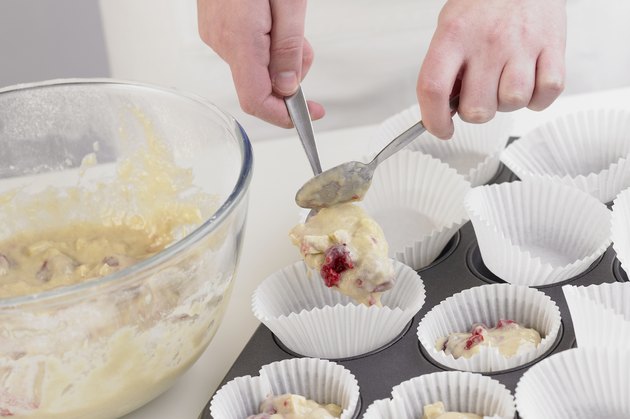 Moistness
One reason yogurt is used in baking is to add moistness and texture to batter or dough. Yogurt is creamy and thick, not watery like many liquids. For a simple one-on-one substitution, sour cream or crème fraiche have similar characteristics, although they may be higher in fat. You may wish to slightly decrease the shortening in the recipe to adjust for the fat difference. Another substitution is cottage cheese. Draining it can make it dry, so use it right out of the carton. Mix cottage cheese in a blender until it's smooth before adding it to other ingredients. For a non-dairy, vegan substitution, soft or silken tofu may be substituted in recipes for moist baked goods.
Flavor
Yogurt's distinctive, tart flavor adds complexity to baked goods. To preserve a tart flavor profile, choose a substitution that has an acidic tang. Make sour milk or sour cream yourself by adding 2 to 4 teaspoons of lemon juice or apple cider vinegar per cup of milk or cream. Allow it to stand undisturbed for a few minutes so it can thicken before use. Another acidic replacement for yogurt is cultured buttermilk. Decrease the amount of buttermilk by about 1/3 to avoid adding too much liquid. If the dough seems too dry, add more buttermilk a little at a time.
Better Rise
If lofty breads or biscuits are your goal, choose an acidic substitute, such as buttermilk or sour cream. By souring your own cream or milk, you have a little control over the acidity, and your choice between lemon juice or cider vinegar can also alter the flavor of the final product. Ensure the best rise by adding 1/2 teaspoon of baking soda to the dry ingredients if the recipe doesn't already call for it. The acidic yogurt substitute reacts with the baking soda and creates bubbles that make your baked goods fluffy and light.
Healthy Choices
Buttermilk is naturally low in fat. Low-fat versions of sour cream, crème fraiche and cottage cheese are also healthy dairy alternatives to yogurt. For dairy-free baking, soft or silken tofu can provide the texture and moistness of yogurt with nutritional advantages such as high protein, low fat and no cholesterol. Although the consistency of tofu types may differ between brands, you can combine soft and silken to achieve a creamy, smooth yogurt texture that blends with other ingredients as yogurt does.