Avocado toast is a calorie-dense breakfast recipe that includes a variety of healthy ingredients, including olive oil, whole grain toast and avocados, but this dish is not ideal for weight loss. Although ingredients such as olive oil and avocado may have nutritional benefits, they are high in calories and may be detrimental to your weight-loss efforts. The exact nutritional values of this recipe will vary depending on the brand of products you use, so check nutrition labels when available.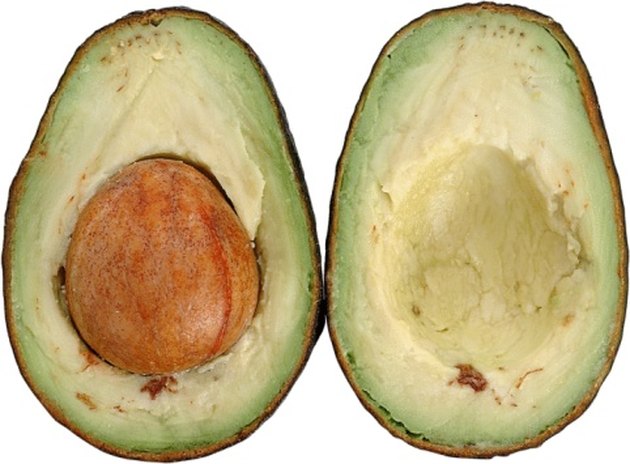 Calories
Avocado toast is a poor choice for weight loss because it is calorie-dense. One serving of this recipe, which comprises two slices, contains 394 calories. This amount provides nearly 20 percent of the daily suggested intake of 2,000 and is more than many other breakfast foods. In fact, if you switched from eating two eggs for breakfast every day to eating two slices of avocado toast, you'd consume an extra 1,778 calories each week, enough to cause a weight gain of 1/2 lb.
Fat Content
Avocado toast is a high-fat meal, as each serving provides 21 g of fat. While most of the fat is unsaturated -- just 2.5 g comes from saturated fat -- this can still be detrimental for weight loss. Fat is calorie-dense, providing nine calories per gram. Additionally, research from the July 1995 issue of "The American Journal of Clinical Nutrition" indicates that, given equal amounts of calories, a high-fat diet would result in more fat and weight gain than a high-carbohydrate diet.
Carbohydrate Content
In addition to being high in fat, avocado toast is high in carbohydrates. Each two-slice serving of this meal provides 44 g of carbohydrates. Although weight loss is possible on carbohydrate-rich diets, research indicates that high-carbohydrate diets such as avocado toast can be detrimental for dieting. A study published in the October 2008 issue of the "International Journal of Obesity" found that eating eggs for breakfast rather than bagels, which are high in carbohydrates, like avocado toast, resulted in improved weight and fat loss.
Protein Content
Avocado toast is relatively rich in protein, as each serving contains 11 g. Research from the October 2009 issue of "Nutrition, Metabolism and Cardiovascular Diseases" indicates that high-protein diets can be more effective for weight and fat loss than lower protein diets, so consuming a meal lower in calories and higher in protein may be beneficial for dieting. Two eggs provide 12 g and contain just 140 calories, so avocado toast may be a poor weight-loss choice by comparison.