Also known as hyaluronan or sodium hyaluronate, hyaluronic acid is a compound naturally found in the body. The University of Michigan indicates that hyaluronic acid is a major part of tissue health. It helps fill the space between the tissues and skin.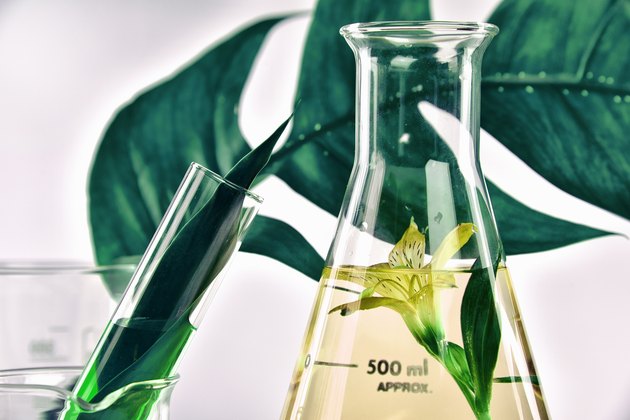 It's also the main compound for lubricating and cushioning the joints. Hyaluronic acid is most often consumed as a supplement and is used in some cosmetics.
Hyaluronic Acid Sources
Contrary to many popular websites, hyaluronic acid is not found in common foods. According to the University of Michigan, it is found in the tissues of all animals and can be made through bacterial fermentation.
There are two main sources of hyaluronic acid that are used in supplements. Those sources, according to a 2004 review article published in "Journal of Applied Nutrition, " are chicken cartilage and rooster combs.
Aging Skin
The amount of hyaluronic acid in the skin decreases as you age, so it is one of the contributing factors to skin aging, along with environmental factors. Hyaluronic acid has been shown to help moisturize and improve dry aging skin, according to a 2014 research study published in "Nutrition Journal."
Hyaluronic acid is often added to anti-wrinkle and anti-aging creams. It is also used as an injectable cosmetic filler. A 2014 study published in "The Journal of Clinical and Aesthetic Dermatology" found that hyaluronic acid was effective in improving the appearance, texture and hydration of the skin, while diminishing the depth of wrinkles.
The secret seems to be in the molecular weight of the hyaluronic acid. The lower the weight, the more it is able to penetrate and benefit the skin.
Osteoarthritis
Hyaluronic acid is largely responsible for smooth movement of the joints in the body. Osteoarthritis is caused when cartilage at the ends of bones is worn down, usually at a joint. Many treatments involving hyaluronic acid have used for osteoarthritis in the knee, shoulder, and hip.
A 2016 review published in "Clinical Cases in Mineral and Bone Metabolism" concluded that hyaluronic acid seems to be an effective treatment for osteoarthritis. Often hyaluronic acid is injected directly in the joint space to relieve the friction and subsequent pain. This is being touted as an alternative to traditional pain medication.
Precautions
As with any supplement, it is important to speak with your doctor to see if hyaluronic acid supplements are right for you. There are no serious side effects reported with its use, other than possible skin rash with oral supplementation. Injections bring the risk of infection, so a health professional will be able to weigh out risk versus benefit.