Contestants on reality TV shows might make speedy weight loss look reasonable as they shed double-digit pounds week after week. But losing 20 pounds in one month is only good for television, not your body.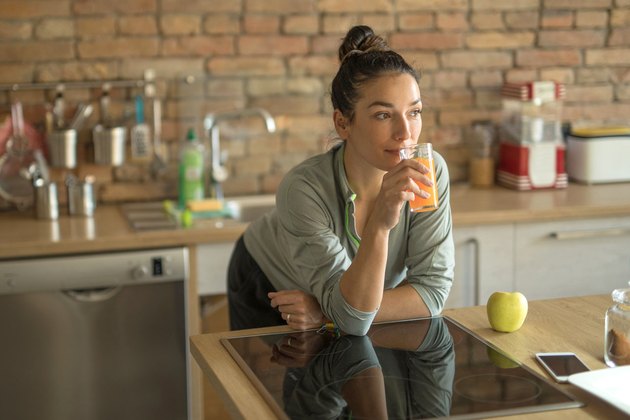 Losing 20 pounds in one month amounts to losing five pounds per week. For most people this is neither safe nor sustainable, according to the Mayo Clinic. Consider the realities of fast weight loss and reevaluate your goals for long-term success.
Realistic Weight-Loss Goals
Losing five pounds a week isn't a realistic goal for most people. Not only does it require extreme calorie deprivation, it would also involve regimented exercise and frequent check-ins with the scale.
Weight loss occurs when you burn more calories than you consume. In order to set realistic weight-loss expectations, you need to calculate your energy expenditure and weigh it against the calories you take in.
Using your weight, activity and duration of activity, the Hospital for Special Surgery provides a general formula for calculating your calories burned. Then, using an app like MyPlate or a food scale, calculate the amount of calories you're eating. These tools can help you create a deficit of about 500 to 1,000 calories, which amounts to roughly a one- to two-pound loss per week, according to the Mayo Clinic.
Menu Planning for Weight Loss
Once you approximate your daily caloric limit per day, either by consulting a doctor or using an online calculator, begin to plan your meals and exercise. Avoid skipping meals and prepare food ahead of time to deter you from buying unhealthy food on the go.
At every meal, eat a serving of lean protein, the Academy of Nutrition and Dietetics recommends. Meals high in protein are great for deterring hunger. Examples include salmon, chicken or turkey. Make sure that your protein has plenty of veggies on the side, too. Vegetables are low in calories and high in fiber, which will keep you feeling full for longer. Veggies like broccoli or Brussels sprouts and legumes like beans and lentils make for satisfying options.
The quality of your carbohydrates matters as well. Opt for carbs from fresh produce and whole grains, Harvard School of Public Health recommends. Instead of white bread, bagels or rice, select whole-grain bread, quinoa or barley. Vegetables like sweet potatoes or squash are also low-calorie, filling picks.
Finally, make mindful choices when it comes to your snacking. Think about the caloric density of the foods you choose (think: a lot of surface area for minimal calories). When you're feeling peckish, choose fruits or veggies to fill up on fiber. If you want a crunchier option, go with air-popped popcorn, which has only 30 calories per cup.
Sample Meal Plan for Weight Loss