Reality weight-loss shows depict contestants stepping on the scale and achieving big losses week after week. You want the same results. But, losing 20 pounds in one month is no easy feat for the average person. For all but the extremely overweight, the 5-pound-per-week weight loss required to achieve this goal is impossible to achieve. Special, medically prescribed diets can help people lose a lot of weight quickly when their weight endangers their health, but most people should expect to lose weight at a sustainable and safe 1 to 2 pounds per week. To lose at this reasonable rate, follow a meal plan that restricts calories but still provides the nutrients you need from whole, unprocessed foods.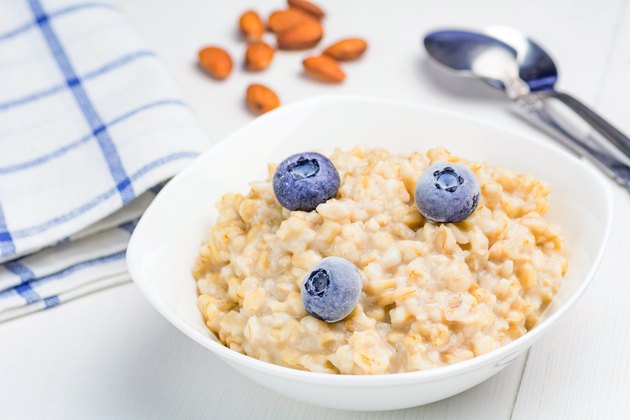 Weight-Loss Reality
Fast weight loss, such as losing 20 pounds in a month, requires such calorie deprivation and extraordinary exercise efforts that it's just about impossible to achieve. A pound of weight loss results when you eat 3,500 fewer calories than you burn. To lose 20 pounds in a month, that deficit would need to be more than 2,300 calories per day. Many people don't burn that much on a regular basis, so even starving themselves won't lead to the loss. The average active man only burns about 3,000 calories per day -- a 2,300-calorie deficit would leave him with just 700 calories to subsist on. This is not enough to provide energy and will leave you fatigued, hungry and nutritionally deficient. Regularly consuming such a small amount of food may also stall your metabolism, if you can even maintain it for the month to lose 20 pounds.
Realistic Weight-Loss Goals
Most people can achieve a weight loss of 1/2 to 2 pounds per week. Also, this slower rate of weight loss is more likely to stick -- the faster you lose weight, the faster it's regained. You'll still need to create a caloric deficit, but of just 250 to 1,000 calories per day. Do this by trimming the amount you eat, making healthier food choices and moving more. In the first few weeks of weight loss, if you make big changes to your diet and exercise routine, you may see faster weight loss. It should taper off to the more reasonable 1/2 to 2 pounds per week, however.
In extreme cases, in which you must lose weight to protect your health or you're being prepped for weight-loss surgery, your doctor may put you on a very-low-calorie diet. These diets have up to 800 calories per day and usually only consist of meal-replacement foods, such as shakes and bars. They're nutritionally complete but can only be followed for a maximum of 12 weeks because the rapid weight loss they induce can lead to complications such as gallstones. The diets result in a loss of between 3 and 5 pounds per week.
Menu Planning for Weight Loss
Once you approximate your daily calorie needs, by consulting with a health care provider or using an online calculator, plan to create the 250- to 1,000-calorie deficit. If you want to lose significant weight, you should up your calorie burn by exercising at least 250 minutes every week, recommends the American College of Sports Medicine.
Your daily calorie intake for weight loss will likely be between 1,200 and 1,800 calories, depending on your weight-loss goals, size, age, gender and activity level. This means each meal contains between 300 and 500 calories, with room for two small snacks or a single larger one per day.
At every meal, have a serving of protein that's low in saturated fat. Examples include tuna, skinless chicken breast, flank steak, flounder, pork tenderloin or tofu. Pile on vegetables, especially the watery, leafy kind, to fill you up and provide you with ample nutrition. One or two servings of whole grains or starchy vegetables can accompany most meals. A slice of 100-percent whole-wheat bread, 1/2 cup of brown rice or whole-wheat pasta or 1 cup of butternut squash are typical servings.
For snacks, have low-fat, plain yogurt with a smattering of berries, a scant handful of raw nuts and seeds, a piece of fresh fruit or an ounce of low-fat cheese with a few whole-grain crackers. Don't deny yourself fat as it's necessary for proper bodily functions and vitamin absorption. Stick to mostly unsaturated fats in the form of olive oil, avocado and nuts, however, and make just 25 to 35 percent of your calories come from this source.
Sample Meals for Weight Loss
How large your servings are at meals depends on your daily calorie goal. For breakfast, your weight-loss menu might feature oatmeal cooked in water topped with fresh blueberries and low-fat milk; two eggs poached with a slice of whole-grain bread and an orange; or a smoothie made with half of a banana, low-fat, plain yogurt and whey protein powder.
At lunchtime, toss a large green salad with 2 teaspoons of olive oil and lemon juice and top with chopped raw vegetables, roasted chicken breast with a whole-wheat roll on the side; enjoy a cup of lentil soup with half of a sandwich containing turkey breast, mustard, tomato and lettuce; or wrap two corn tortillas around 1/4 cup of black beans with grilled vegetables, salsa and a quarter of an avocado.
Skip fast food and convenience dinners. Instead, stir-fry tofu or chicken breast with mixed vegetables and have it with brown rice; broil a small serving of salmon alongside a baked sweet potato and steamed spinach; or grill flank steak to have with quinoa and roasted asparagus.
Sweetened soft drinks, baked goods, processed snacks and fatty cuts of meat are off your weight-loss plan.