To lose weight, you need to reduce your calorie intake. But limiting your intake to 1,000 calories a day may make the diet difficult to follow over the long term and could potentially lead to nutritional deficiencies. If you're considering a 1,000-calorie diet to help you lose the weight, consult your doctor for ongoing support and guidance.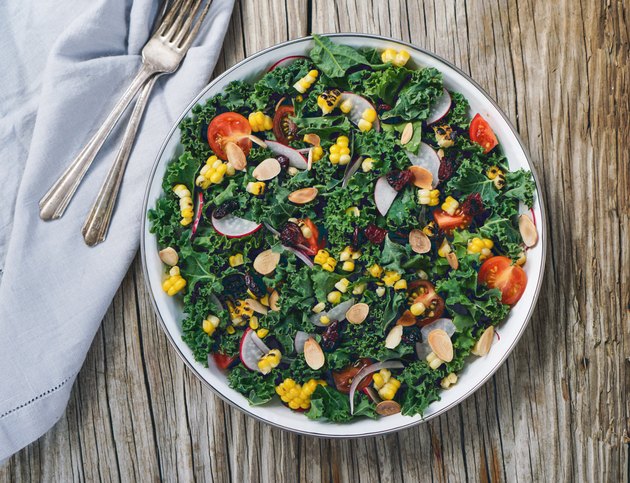 Losing Weight on 1,000 Calories
You lose weight by creating a calorie deficit, which means you're eating fewer calories than your body burns. One pound of fat contains 3,500 calories, so you need to burn that many extra calories to lose each pound. If you currently burn 2,200 calories a day, reducing your daily intake by 1,200 calories may help you lose a little more than 2 pounds a week.
While limiting your intake to 1,000 calories a day may produce results fast, as a low-calorie diet it's not right for everyone. Fast weight loss usually causes you to lose muscle along with the fat, and it may leave you feeling tired, weak and hungry. If your doctor feels you need to lose weight quickly due to health concerns or upcoming surgery, however, the pros of the low-calorie diet may outweigh the cons.
Healthy Foods for a Low-Calorie Diet
To maximize every bite, you need to make very smart choices on your 1,000-calorie diet plan. For health and balance, your daily meal plan should include three servings of grains, two servings of protein, two servings of fruit, five servings of veggies, two servings of milk and 2 teaspoons of vegetable oil.
Grain choices and portions include one slice of 100-percent whole-wheat bread, 2 tablespoons of brown rice or other grain, 3 tablespoons of dried oats or 1/2 cup of cooked potatoes. For protein, 4 ounces of cooked lean meat, poultry, fish or tofu, two eggs, 2 ounces of low-fat cheese or 1/2 cup of cottage are equal to one portion.
One medium apple or orange, 1 cup of grapes or strawberries and 1 tablespoon of dried fruit are each equal to one serving of fruit. Veggie choices include cooked or raw nonstarchy vegetables such as greens, broccoli, cucumbers, radishes, tomatoes, peppers and beets, with 1 cup raw or 1/2 cup cooked equaling one serving.
One cup of nonfat milk or 1 cup of low-fat yogurt is one dairy portion.
Drink plenty of water to stay hydrated, and use calorie-free seasonings such as salt, pepper, garlic, vinegar, soy sauce, vanilla and broth to add flavor.
Staying Full on 1,000 Calories
One of the major problems you may experience on your low-calorie diet is hunger. But there are some things you can do to help you feel satisfied without sabotaging your diet and weight loss. Load up on low-calorie foods to help keep hunger away. Good choices include leafy greens, celery, cucumbers, radishes and peppers.
Add "free" foods -- which have negligible calories -- to your meal plan. These include sugar-free gelatin, fat-free broth and dill pickles. Don't waste calories on extras such as salad dressing and mayonnaise -- use herbs, spices, mustard, vinegar and lemon to add flavor to food without any calories.
Drink 2 cups of water before each meal. Drinking water before you eat helps you feel full so you eat less, according to a 2008 study published in Obesity. In turn, drinking the water can help you feel more satisfied on a low-calorie diet.
Considerations for a 1,000-Calorie Meal Plan
A 1,000-calorie diet will be too low for most people. Generally, women need at least 1,200 calories a day and men need 1,800 calories to get basic nutrition, and eating just 1,000 calories ups your risk of nutrient deficiencies.
Eating 1,000 or fewer calories a day can also make you enter "starvation mode," where your body will slow your metabolism to avoid losing fat. During those first few days your body burns sugar and muscle for fuel, then starts burning fat. While you'd likely want to lose the fat, shedding muscle slows your metabolism -- so you'll have a harder time actually getting to your goal weight.