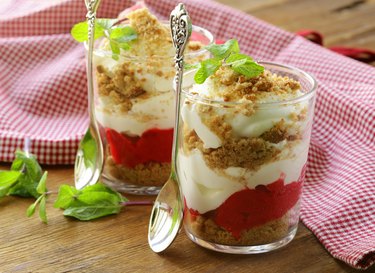 You work hard to make a cake, and then it comes out of the oven dry and crumbly. A cake can crumble for a variety of reasons: overmixed batter, too much flour, not enough sugar or not enough shortening. When you bake your cake, make sure you use the flour your recipes calls for, preheat your oven and bake the cake at the correct temperature. Don't open the oven door to check on the cake until it has finished rising. This will help to ensure success the next time you bake. But even a less-than-successful cake can be salvaged.
Step 1
When your cake comes out of the pan in pieces, use frosting to put it back together. Frost the torn edges, using a frosting spreader, and press the pieces back together. Then cover the entire cake with frosting, taking care not to separate the pieces you put back together.
Step 2
Turn your crumbled cake into a trifle. Place cake pieces in a large dish or individual champagne glasses, and top the cake pieces with fruit and whipped cream.
Step 3
Drizzle flavored liquor over the pieces and let it soak into the cake. This is an adults-only presentation. For children, substitute chocolate or strawberry syrup.
Things You'll Need
Frosting

Spreader

Fruit

Whipped cream

Champagne glasses or large dish

Flavored liquor or chocolate or strawberry syrup
Tip
To keep your cake from breaking after you bake it, wait 10 to 15 minutes before removing it from the pan. If your cake is sticking to the bottom of the pan, place the pan on top of a very hot, damp towel. Leave it there for a few minutes. Remove the cake pan from the towel, and remove cake from pan as usual.