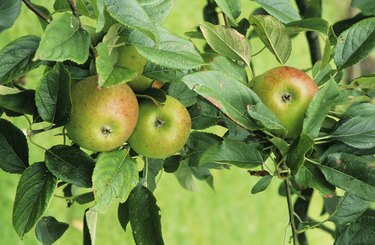 Schnapps refers to an alcoholic beverage that is either potato or grain based, with added flavors. Schnapps originated in Germany, and in the U.S. it is primarily used to create a slew of different mixed drinks. Some common schnapps flavors include peppermint, root beer, peach, cinnamon and apple. Make apple schnapps at home with some basic ingredients and a bit of time.
Step 1
Pull the stems off the apples, cut them into quarters with a paring knife, and remove the seeds. Leave the peel and core intact. Add the apples to the jar, cutting them into smaller pieces if the opening of your jars or bottles are small.
Step 2
Mix the sugar with a couple of tablespoons of boiling water to create a syrup. Pour the syrup over the apples, and place the lid on the jar. Shake it slightly to mix the syrup and apples together.
Step 3
Set the jar in a cool, dark place, and let it sit for three days. Shake it once or twice a day to ensure the apples are coated with syrup.
Step 4
Fill the jar to the top with unflavored vodka. Replace the lid and place the jar back in the cool, dark place for two to three months. Continue to give it a shake every few days.
Step 5
Place a sieve over the top of a large bowl or pot, and pour the contents of the jar through the sieve. Press the apples down into the sieve with a wooden spoon to release their liquid. Alternately, leave the apples in the vodka, and discard them once the vodka is gone.
Things You'll Need
2 to 4 apples

½ cup sugar

Glass jar with lid

1 bottle vodka

Sieve

Wooden spoon

Bottle
Tip
Add other ingredients into the jar with the vodka and apples, such as star anise or ginger, for a more complex flavor. Use the type of apple you enjoy most.