One of the most abundant neurotransmitters in the body, glutamic acid, or glutamate, has the job of stimulating nerve cells in the central nervous system. As an amino acid, it's used to produce another amino acid called glutamine. About four pounds of glutamate are found in muscles, brain, kidneys, liver and other organs, according to the International Glutamate Information Service.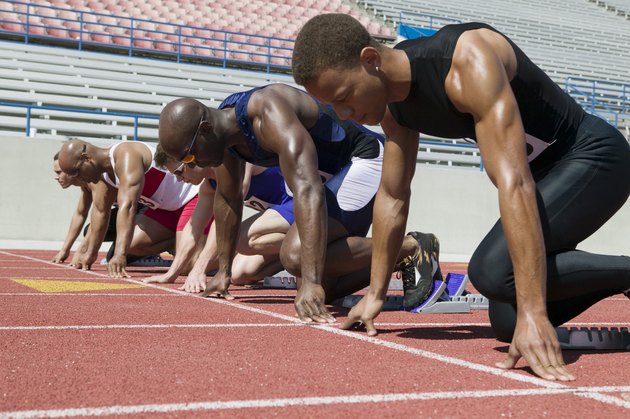 Uses
In the form of glutamine, glutamic acid is needed for the proper functioning of the immune system, digestive tract and muscle cells. Cells inside the intestine rely on glutamine, so it may help treat digestive conditions such as gastritis. Levels of glutamine in the body are depleted during times of stress, whether that stress comes in the form of illness or heavy exercise. As part of a complete nutritional regimen, glutamine supplements may help people recover from surgery or illness. Since glutamine levels remain consistently low with intense athletic training, supplements are often marketed to help athletes improve performance, but this is not strongly supported by evidence, reports the University of Michigan. Glutamine helps reduce the duration of acute diarrhea and preserves lean muscle mass in those with HIV and AIDS.
Dangers
An excess of glutamic acid from supplements may cause overstimulation of nerve receptors and contribute to neurological disorders such as epilepsy and Lou Gehrig's disease. High doses of glutamic acid or glutamine may interfere with anti-epileptic medications. People with any type of neurological disorder, kidney or liver disease should consult their health-care provider before taking glutamic acid supplements.
Dose
Daily requirements have not been determined for glutamic acid. A typical therapeutic dose of glutamine is 3 to 30 g daily, but it is safe at levels up to 14 g per day, according to the University of Pittsburgh Medical Center. In addition to supplements, glutamic acid is found in high-protein foods, such as milk products, fish, meat, poultry and eggs.
Considerations
As long as you are healthy and include sufficient protein in your diet, you do not need glutamic acid supplements. If used by athletes, it's best taken consistently every day rather than just before or after a workout, reports the University of Michigan.