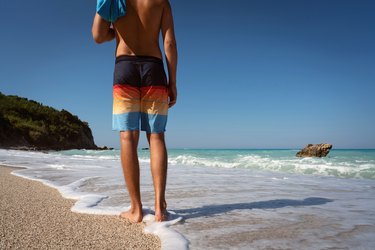 Just as some workout shorts have a built-in pair of compression briefs or underwear, you may find an inner net in your swim trunks, too.
Different styles of trunks have different features, but many are built with an inner mesh net, designed to provide support and coverage. These linings are intended to add comfort while swimming, but for some, they may cause skin irritation.
Why Do Men's Bathing Suits Have Netting?
The main purpose of the net inside a pair of swim trunks is to provide support while swimming, according to Dry Fins, a function-first swimwear company. The netting hugs the crotch area and sits close to the body, much like men's underwear.
Considering swimming involves a good deal of leg movement, the netting helps keep sensitive body parts up and out of the way while swimmers kick and move.
The mesh or netted lining inside swim trunks is designed to cover the crotch area. Typically, this netting is made of polyester with small, ventilated holes (more on that below). Some swim trunk designs feature a net that's part of a larger garment lining, while others have the net on the trunks themselves.
Visually, netting also helps provide a smoother line under a swimsuit to give a little more coverage. This can be a beneficial feature for those who are concerned about wearing a swimsuit in public.
By preventing genital movement, suit netting is also meant to prevent chafing by creating a barrier between your skin and swim trunks, according to Dry Fins. But in reality, swim netting often causes unwanted chafing, because the fabric tends to be rough and irritating.
Netting negates the need to wear underwear underneath swim trunks. Considering the netting is an open mesh fabric, it helps promote air circulation, which helps your bottoms dry more quickly.
You always want to try on swimwear to ensure a good fit; swim trunk netting that's too tight can cause pain in the groin, while netting that's too loose provides little or no support. If the rest of the trunks fit but the netting does not, find another size or choose another pair of trunks.
As mentioned above, the netting in swim trunks can sometimes feel rough or uncomfortable. In certain cases, it may even trap rocks or sand in your bottoms, per Dry Fins. Luckily, there are a few solutions you can try.
Have a favorite pair of trunks with some irritating netting? Cut the mesh out — it usually snips pretty easily. And if you really want all the net gone, you can use a seam ripper to remove any leftover pieces.
You can also shop for a new swimsuit that has no mesh liner. These days, you can find plenty of pairs with either no lining or a softer, compression short-style support. Generally, these are much better at preventing chafing and irritation, while still offering ample support.
Net-Free Swim Trunks We Love