Pants just won't cut it for your sweatiest workouts. When you need to stay cool and have the freedom to really move during a set of burpees or lunges, workout shorts are your BFF.
But not any old workout short will do. Choosing the right bottom is nearly as important as executing correct exercise form. On the short list of things you definitely don't want: bulky materials, a too-tight waistband or uncomfortable seams that might chafe.
If you're on the hunt for a few fashion-forward, functional styles of workout shorts for men, these are your best options. Whether you're headed out for a run or going to CrossFit, they'll provide the support, comfort and breathability you need to perform your best (while looking your best, too).
1. Rhone Versatility Short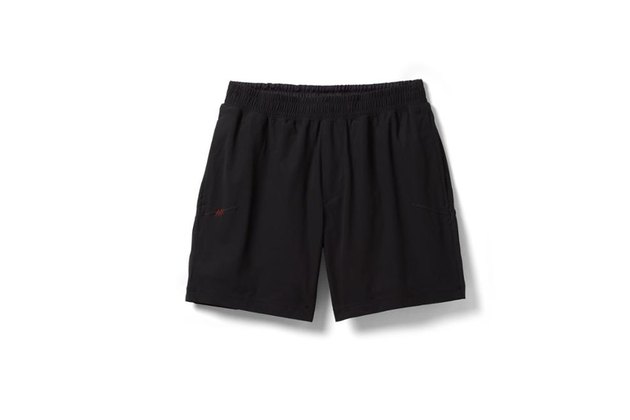 Offered in two different lengths, this short lives up to its name. It has mesh ventilation, is made of a durable Italian fabric and even has UPF 50+ protection so you can stay safe for outdoor runs or circuits in the sun. It's also made with flatlock seams, to ensure a chafe-free workout and comfort for wherever you're off to next.
2. Lululemon Pace Breaker Short
Made of a lightweight, four-way stretch fabric, this short is so comfortable you'll almost forget you're wearing it. "This is one of Lululemon's most popular shorts," says Cassandra Sethi, personal stylist and founder of Next Level. "It's a perfect pick to wear to any type of workout or even just lounging around on the weekends."
3. Lululemon Diffract Cargo Short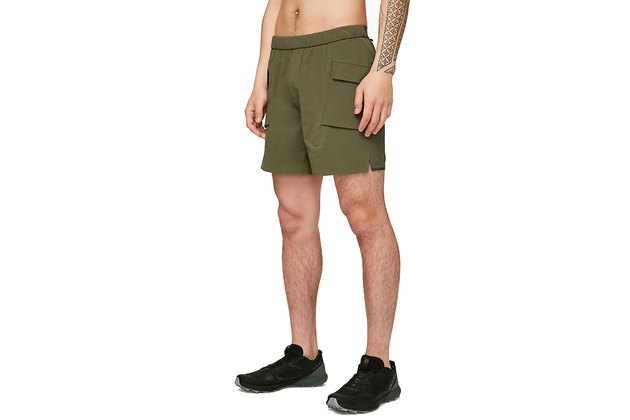 For the guy who needs extra pockets, these shorts offer one on each side plus one in the back for all of your essentials. From Lululemon's limited-edition Lab collection, this pricier pick is meant to take you from gym to street and everywhere in between. "This relaxed style can easily be worn for a vacation, lounging around or a low-impact workout," says Sethi.
4. UA Qualifier Speedpocket 7-Inch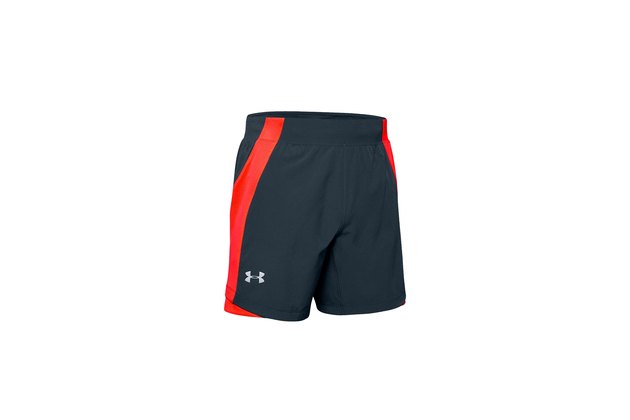 If you're into fun, bold colors, then look no further than this style from Under Armour. "It has big enough pockets to stash your phone easily with no bouncing," says Sethi. "It's also constructed of four-way stretch construction and has anti-odor technology." Translation: No one will be looking at you and wondering if you're the stinky guy in class.
5. Wheelers V. Bleeker Short
Made by local New York designer Wheelers V., this look is for a man looking for sophistication. Since this short has a more tailored fit, order a size up if you want a little more wiggle room, suggests Sethi. The slightly high price tag covers max comfort with extras like an adjustable waistband and specialty fabric. "They're made of a lightweight Japanese brush backed fleece, which is super soft and ideal for all-day wear," says Sethi.
6. Ten Thousand Foundation Short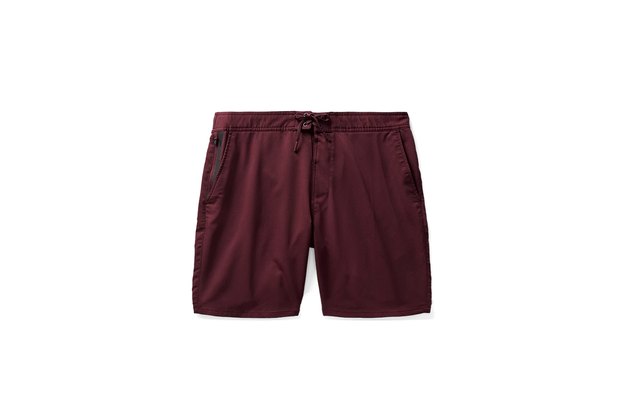 If you're big on hitting the weights and getting in some serious barbell work, you'll appreciate this option's abrasion-resistant fabric, perfect for cranking out rep after rep. "The best part of this pick is that you can customize the short completely, tailoring it to your wants and needs," says Sethi. "Available in five different colors, you can choose a 7- or 9-inch inseam, as well as liner or no liner."
7. Nike Flex Tech Pack Shorts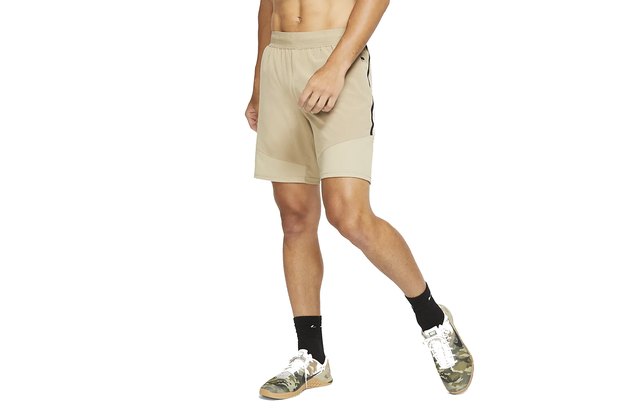 A sleek-looking pick from Nike, this short is the perfect combination of performance with streetwear vibes. "These athletic shorts are just fashion-forward enough to stand out but not be the center of attention," says Sethi.
Made with sweat-wicking material, these are sure to keep you cool and dry. Plus, they've got ribbing strategically where you need it most, allowing flexibility when you move to facilitate everything from box jumps to burpees.
8. Nike Challenger Short
Feeling a little adventurous? Then this mixed-checkered option is right up your alley. "These 7-inch shorts are for the guy who wants to try a print but not sure which one to get," says Sethi.
Other perks: stretchy side panels that will help keep you cool and a well-placed back pocket to stash your phone, keys and cards.
9. REI Co-op On The Trail Run Shorts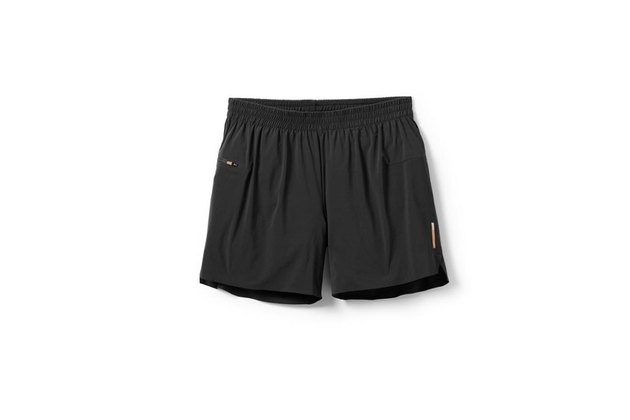 If you're an avid runner or marathoner, look no further than this no-frills, basic pick from REI. On the shorter side with a 5-inch inseam, they're made with sweat-wicking, breathable fabric with motion in mind. "They've also got flat seams to avoid chafing and come with reflective touches to keep you visible even during low-light runs," says Sethi.
10. Wolaco North Moore Short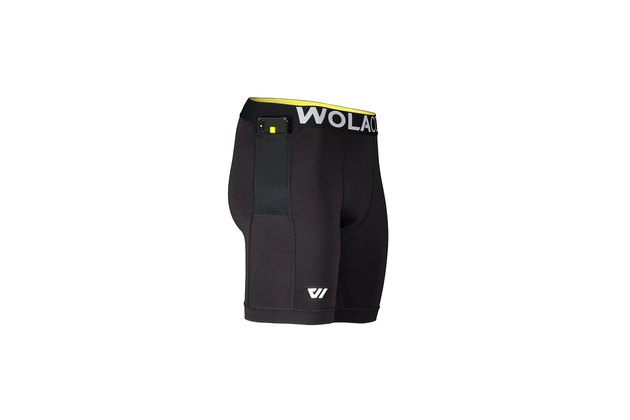 When was the last time you took your phone out of workout short pocket, and it didn't have some sort of sweaty, wet residue all over it? Say goodbye to that unpleasant experience with this must-have choice from Wolaco, which comes complete with two water-resistant pockets to hold your essentials securely in place and keep them dry. Made with four-way stretch compression fabric, the short's perfect to wear either alone or as a base layer under another pair if you're hunting for more coverage.