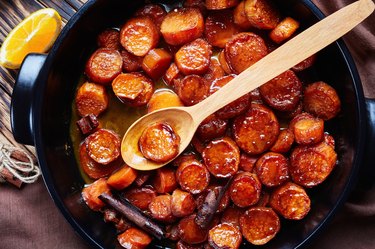 Slow cookers like the Crock-Pot are valuable to busy cooks for a simple reason: They don't require a lot of upkeep. Slow-cooking may require hours of advance preparation to let food stew in seasonings and its own juices, but once you fill up that slow cooker you are, for the most part, done with your work until it's time to eat.
Yams — another name for sweet potatoes in the United States — cook well in a slow cooker. You can take canned, precut yams straight from their packaging and into the slow cooker for an easy, low-maintenance side dish.
Here's how to make Crock-Pot candied yams using canned yams.
Things You'll Need
Slow cooker

2 lbs. canned yams

3 tbsp. butter, melted

Seasonings
1. Add Canned Yams to the Slow Cooker
Drain the juice from the canned yams and then place the pieces into the slow cooker.
Add melted butter into the slow cooker, along with other seasonings as desired. You may want to add brown sugar and/or cinnamon — both popular pairings with yams — or add chopped pecans into the mix.
Stir the ingredients together in the slow cooker.
Place the lid on the pot and cook on medium for 6 to 8 hours, or until the yams are tender.
Warning
Do not remove the slow cooker's lid while the yams are cooking. This lets heat escape, interrupts the cooking process and will prolong the cooking time for your yams.